A journey through Japanese mythology and power spots(One night in Takachiho / One night in Miyazaki city)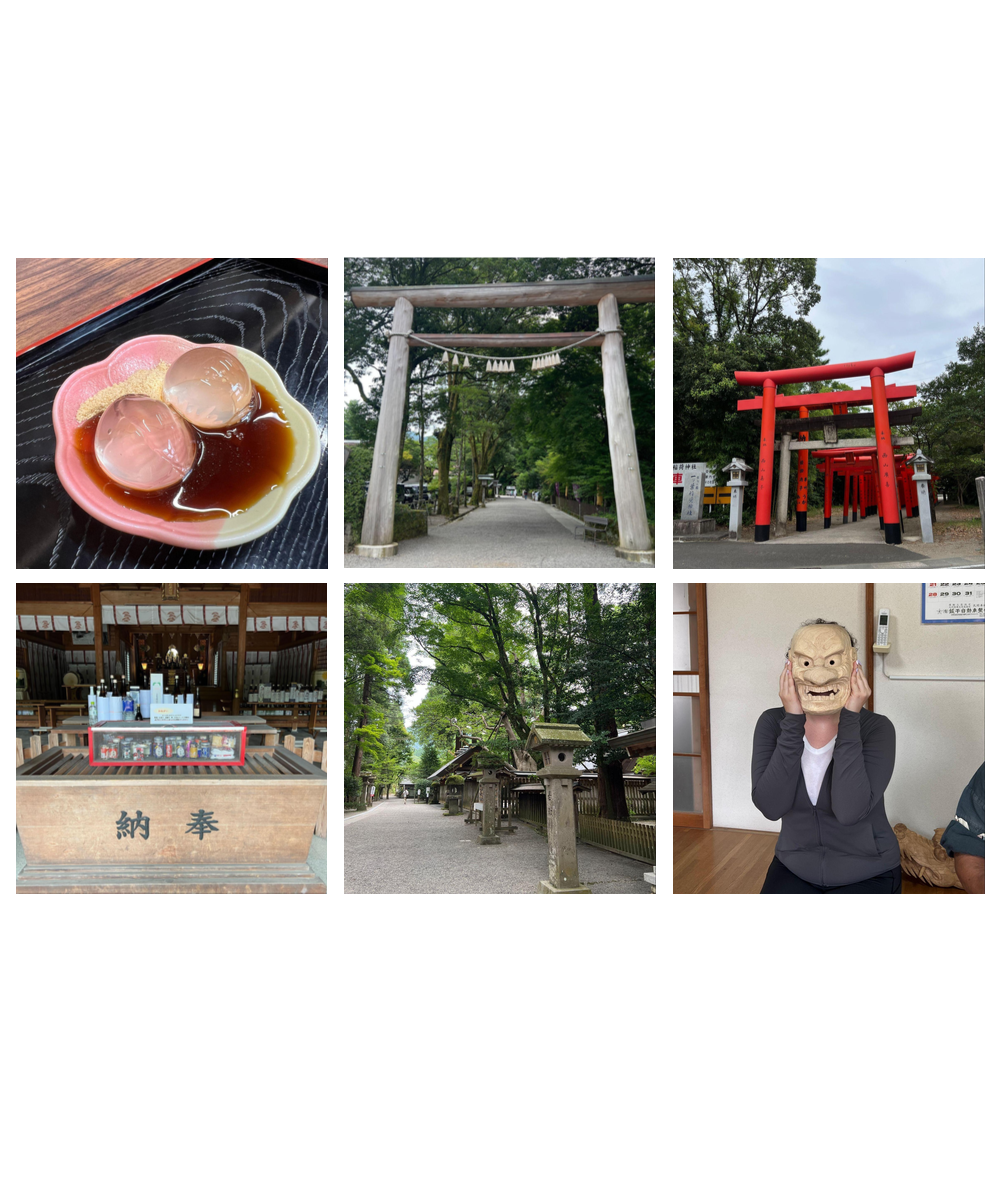 Two days isn't nearly enough time to explore all the beauty Miyazaki Prefecture has to offer, but it's a great start.

Allow me to introduce myself. My name is Kate Bushong, the Coordinator for International Relations of Nichinan City. I'm a 27 year old American who loves travel, art, drinking too much coffee, and meeting people from all walks of life.

I've lived in Miyazaki for over 3 years now, and I love exploring my own backyard. This prefecture has all sorts of gorgeous spots, delicious eats, friendly people, and fun adventures on offer.

Let me take you on a trip that'll give you a taste of both country and city life here in the sunny side of Japan.

Note: Since I've recommended renting a car for road tripping around Miyazaki, I've attached map codes to all the addresses. Map codes in Japan are a set of numbers that correspond to a location's latitude and longitude. Your rental car will come with a Japanese GPS built in, and I recommend using these codes instead of wrestling with typing out the Japanese address. Hope this helps!
Suggested Time:2Days(2/2)
Main modes of transportation:Car
START
Amanoiwato Shrine(by. Zig Zag Village Walk- Guided tour)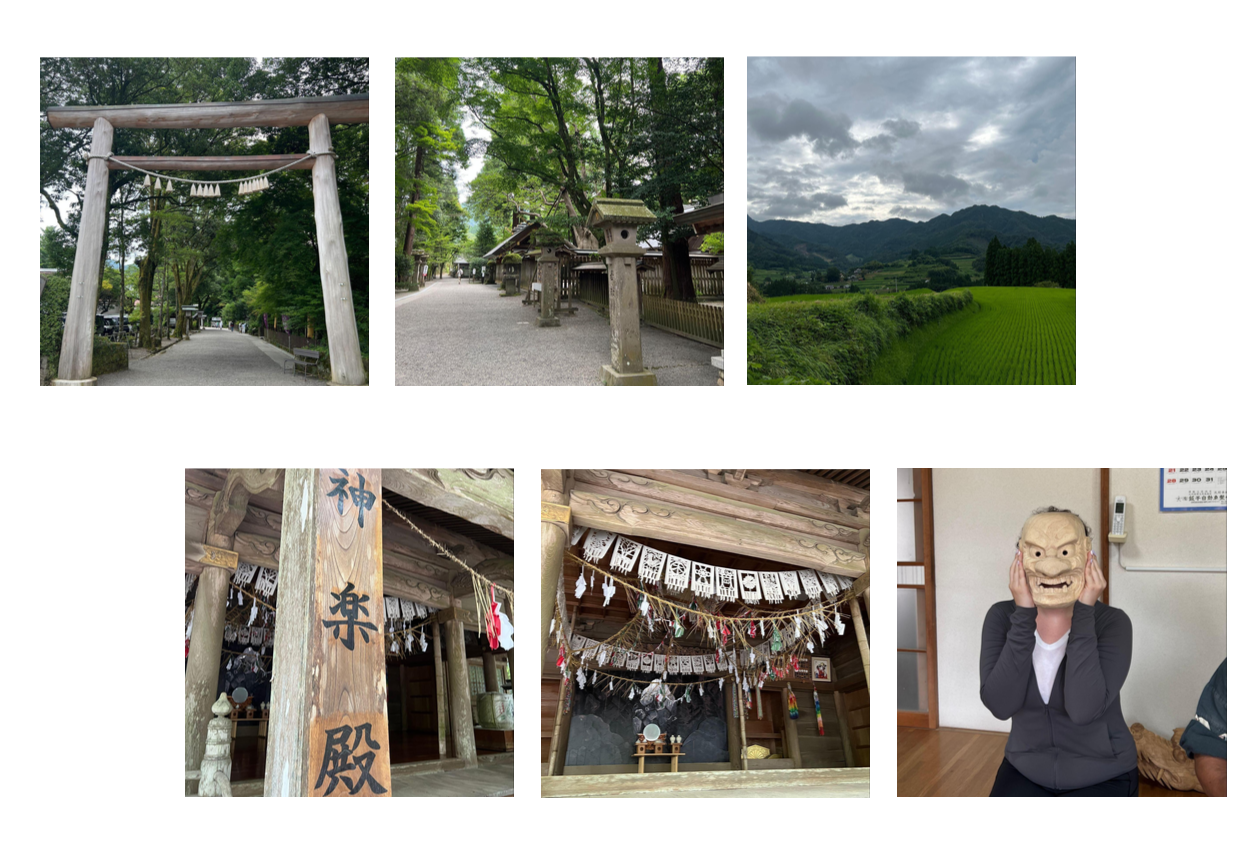 I woke up early and gathered my stuff together to check out of the cozy hostel after a good night's sleep. My plan was to swing by a bakery in the back to carbo-load before my morning plans—the Zig Zag Village Walk, offered by Hidden Gem Journeys in Takachiho. Per the tour's instructions, I headed over to Amaterasu-kan by Amano-iwato Shrine, about a fifteen minute drive from central Takachiho.

My guide, Aoi-san, made sure I had a full water bottle before setting off on our hiking tour of Takachiho, starting with walking the grounds of the aforementioned Amanoiwato Shrine. There's something very special about walking around a shrine before the rest of the tourists have arrived, seeing priests sweeping up leaves, bowing to greet us as they get ready for the busy day ahead.

Japanese mythology is something that has long interested me, mainly because I was taught so little about it growing up in America. Takachiho is the setting of one of the most famous legends of Japanese mythology. In this story, the Shinto goddess of the sun, Amaterasu, became so outraged by her brother's cruel pranks that she shut herself away in a cave, refusing to come out and depriving the world of her light.

The other gods and goddesses gathered to coax her out, trying everything they could think of, but it was no use. That was until one goddess performed a downright scandalous dance that made the rest of the gods fall over themselves with laughter until the goddess Amaterasu became curious, and left her cave to see what was going on. In doing so she returned her light to the world. This shrine was built right near the cave where Amaterasu shut herself away, and while you cannot visit the cave itself, this shrine is more than beautiful enough to enjoy.

There's also a kagura performance hall in the shrine where you can see performances on special nights. Before we go any further though, allow me to explain what kagura is for the uninitiated.

Kagura is a kind of sacred dance in Shintoism, which celebrates the stories of the gods. While kagura dances are performed all across Kyushu, Miyazaki has the strongest kagura culture of all, as this prefecture is said to be the birthplace of the gods. Kagura has been practiced in Takachiho for over 800 years, and you can still see performances of it now when visiting.
From the shrine, we walked towards the terraced rice fields of Takachiho, admiring the beautiful scenery. I've seen plenty of rice fields during my time in Japan, but this was the first time I'd been allowed to walk through them, and I was amazed how strongly the warm summer air smelled of rice! If I hadn't eaten breakfast earlier, I'm sure I would've been starving.

The destination of our leisurely walk through the rice was actually the home of one of the only kagura mask-makers in Japan, Hiroaki-san, who has perfected the art after 35 years of dedication. It's really only on tours like this that normal visitors like myself get up close and personal with such brilliant artisans.

Hiroaki-san was kind enough to answer all sorts of questions I had about his art. It apparently takes him less than two days to finish making one of these kagura masks, and I fully believed him as I watched him expertly shave away bits of wood while proclaiming that he doesn't make mistakes. Watching a master artist work always lights a fire of intrigue in the soul.

"Are Takachiho's children afraid of kagura masks?" I asked, thinking about the pictures I've seen of little children sobbing during holidays such as Setsubun, where parents dress up as Japanese demons called "oni" and chase them around. Hiroaki-san just laughed.

"Us kagura performers visit kindergartens here and change into our costumes in front of the children so they understand it is just a human behind the mask. We don't want them to be scared of their culture," he explained while making an expert mark to denote the fierce eyebrow on the mask. I found that such an utterly charming thought; I wish I could've seen it at one of the kindergartens in Takachiho.



Amanoiwato Shrine
1073-1 Iwato, Takachiho, Nishiusuki District, Miyazaki 882-1621
Map Code 36 563 702*24
*approx. 20min by walk
Ochitachi Shrine(by. Zig Zag Village Walk- Guided tour)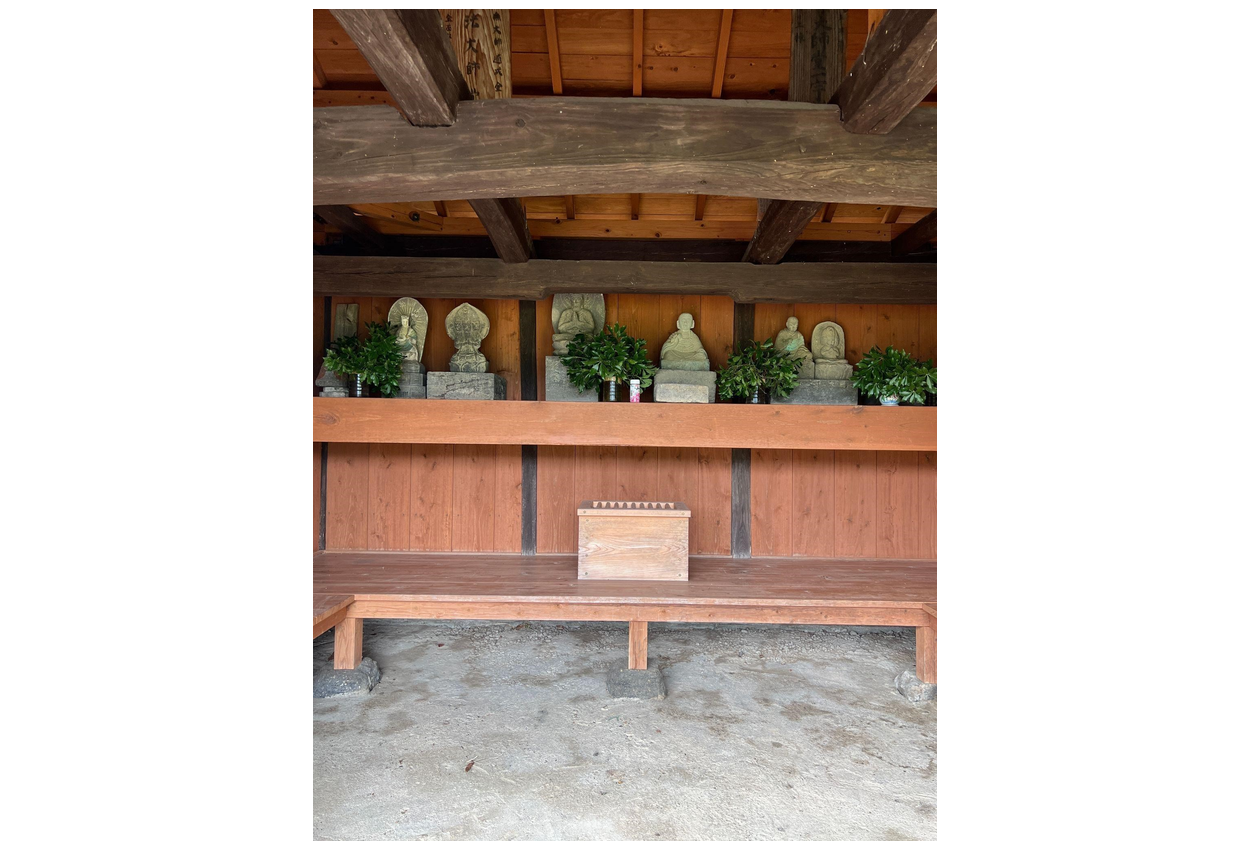 As we said our goodbyes and continued our walk through Takachiho, my guide showed me some small roadside stops. They're for travelers to take a break, but also to pay tribute to various gods around town. You can toss a coin to the gods, admire the shochu laid out, and rest your feet for a bit.

Continuing on our journey led us to our next shrine visit, Ochitachi Shrine. Interestingly enough, the model for the statue of the kagura dancer just outside the entrance was actually Hiroaki-san himself! It really drives home just how strong the sense of community is in this town. The patron god of this shrine is said to be Izanami no Mikoto, the goddess of safe childbirth and protection against fires. The plentiful trees offered a nice break from the blazing sun as we admired the beautiful old architecture.

Ochitachi Shrine
2573 Iwato, Takachiho, Nishiusuki District, Miyazaki 882-1621
*approx. 15min by walk
子授けの湧水(by. Zig Zag Village Walk- Guided tour)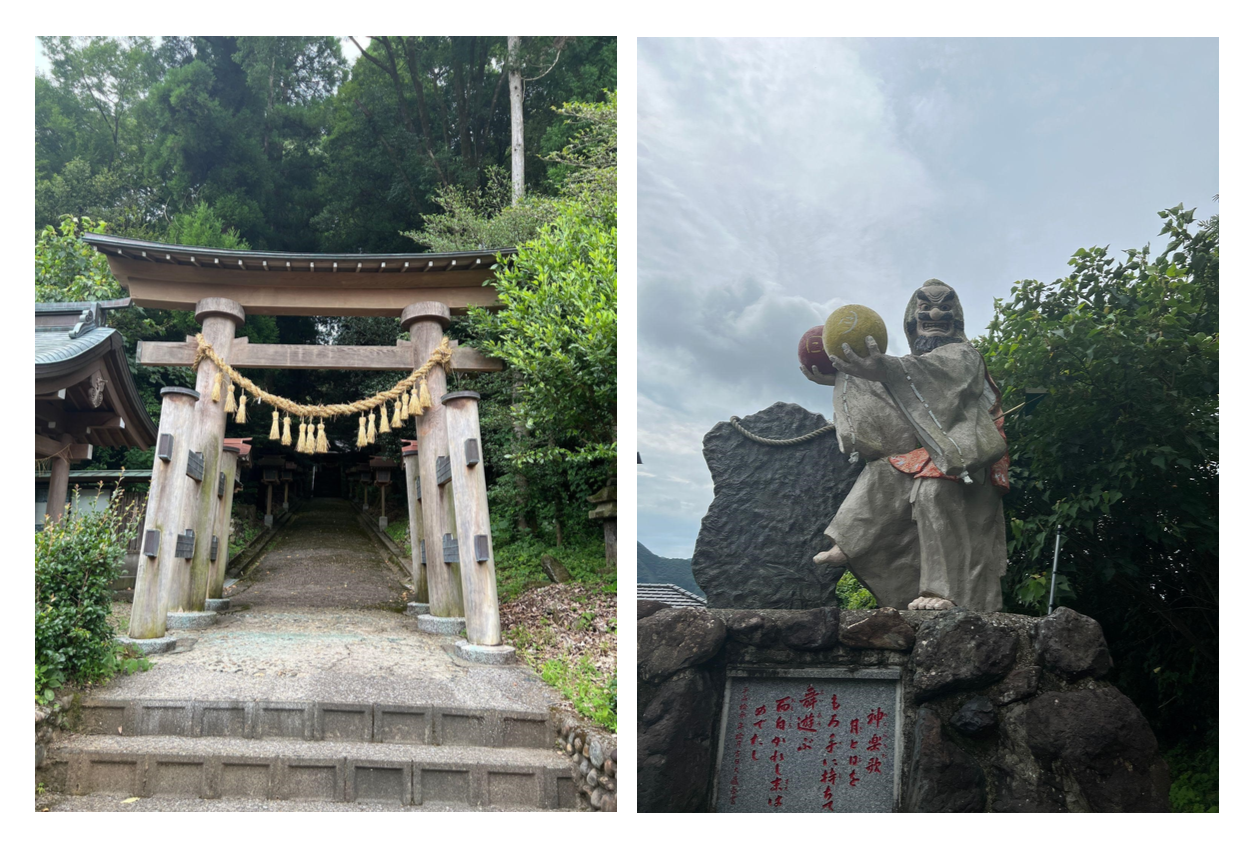 After all that walking, we were due for a break, and decided to take it at a relatively hidden spot. Kosazuke no Yuusui is a drinkable waterfall located in a little shrine that Izanami no Mikoto is said to have stayed in once. rested our feet and unwrapped locally made onigiri to eat while drinking cups of fresh water, a true godsend on a hot day. We then waded down into the river that the waterfall feeds into, cooling off before it was time to head back into town.
*approx. 30min by walk
Kono Hana(by. Zig Zag Village Walk- Guided tour)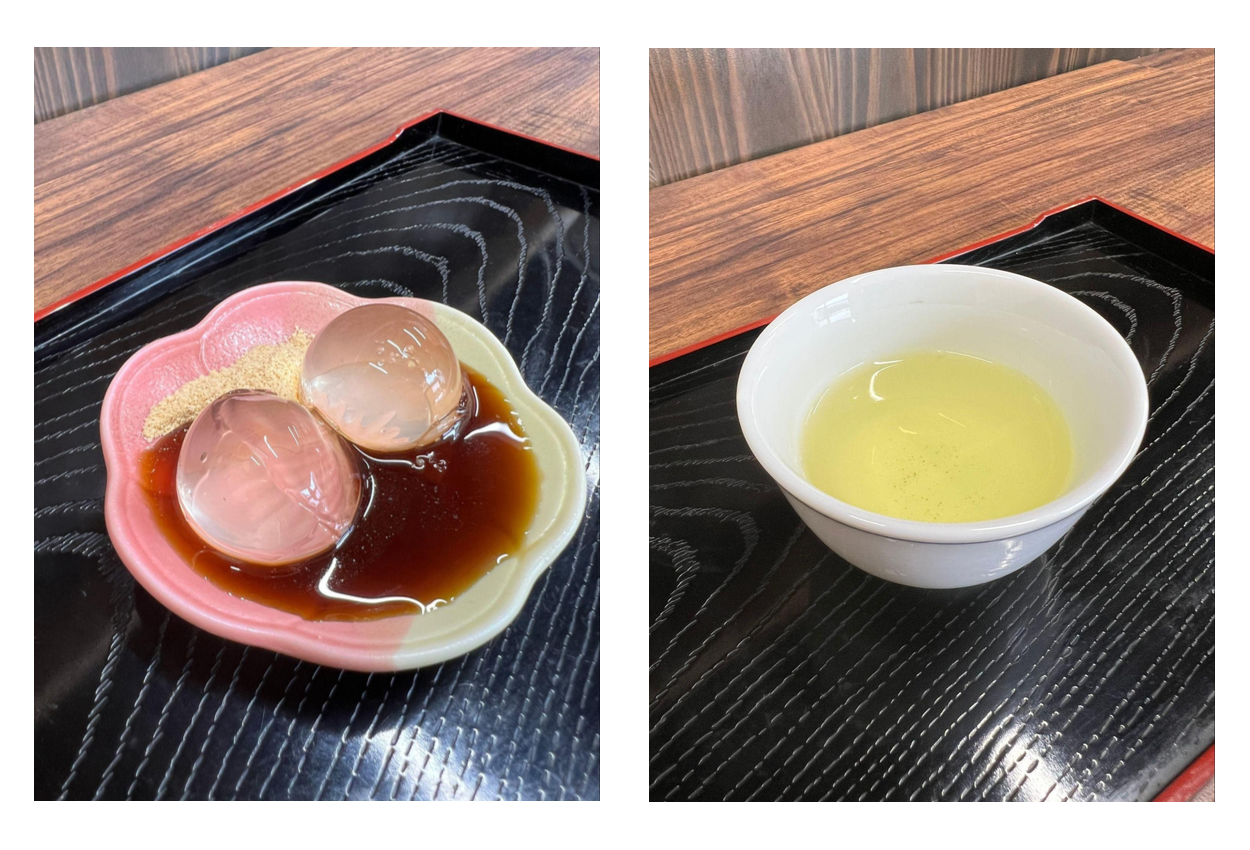 Our destination ended at a traditional Japanese cafe, or "kissaten" called Kono Hana, where we enjoyed traditional Japanese kinako and kuromitsu dessert, as well as locally-made Takachiho tea. This tea is processed quite differently from most Japanese teas in order to minimize the amount of water used in the mountainous area, giving it a unique flavor.

Kono Hana
792ー3 Iwato, Takachiho, Nishiusuki District, Miyazaki 882-1621
Map Code 330 837 544*77

*approx. 2hour by car
Eda Shrine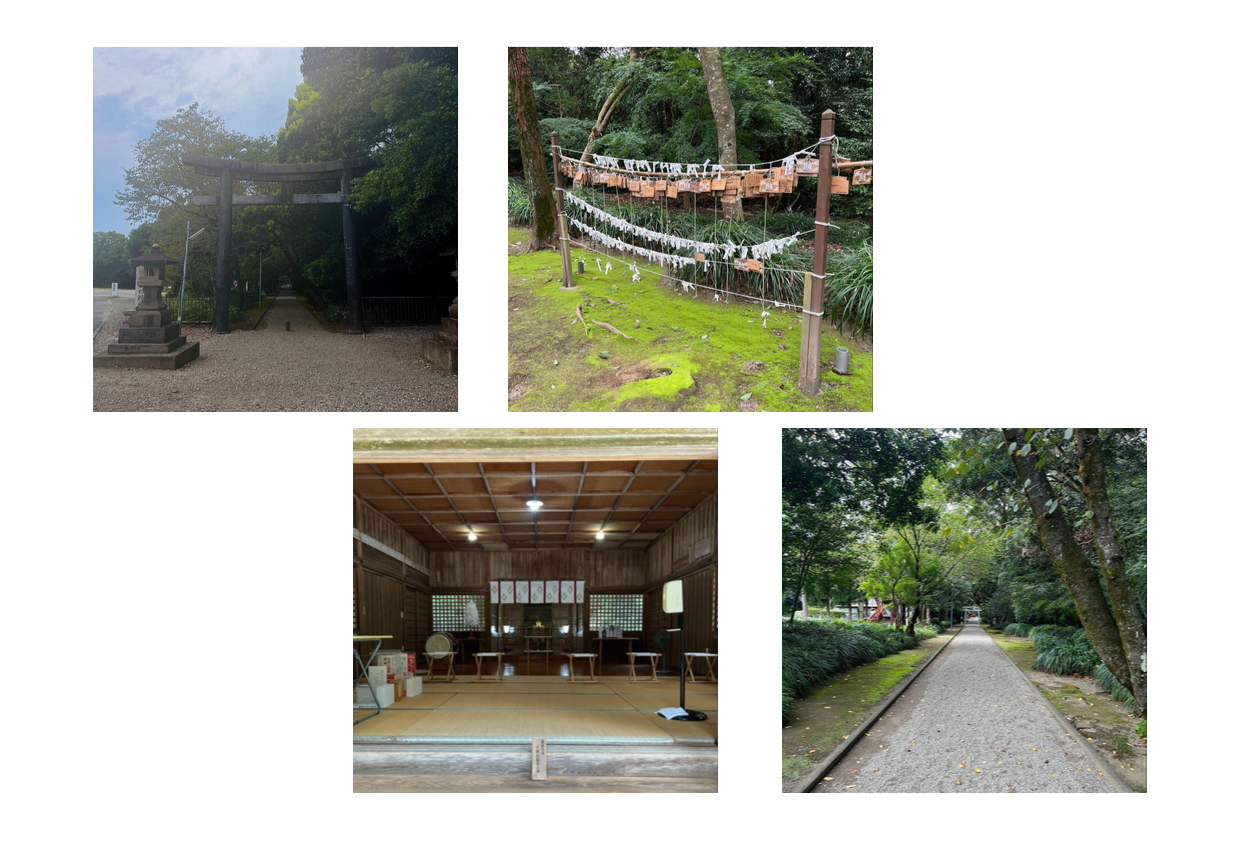 It's a little over a two hour drive back to Miyazaki City from Takachiho, but before checking into my hotel, I wanted to take advantage of the remaining daylight. So, I opted to visit two more shrines in Miyazaki City. The first was Eda Shrine. The sudden fog and clouds gave it quite the mystical feel, befitting one of the oldest shrines in all of Miyazaki. It is dedicated to the god Izanagi-no-Mikoto, one of the creators of the islands of Japan and the father of many deities, including the famous sun goddess Amaterasu.

Eda Shrine
Yabo-127 Awakigaharacho, Miyazaki, 880-0835
Map Code 66 445 659*45

*approx. 10min by car
Hitotsuba Inari Shrine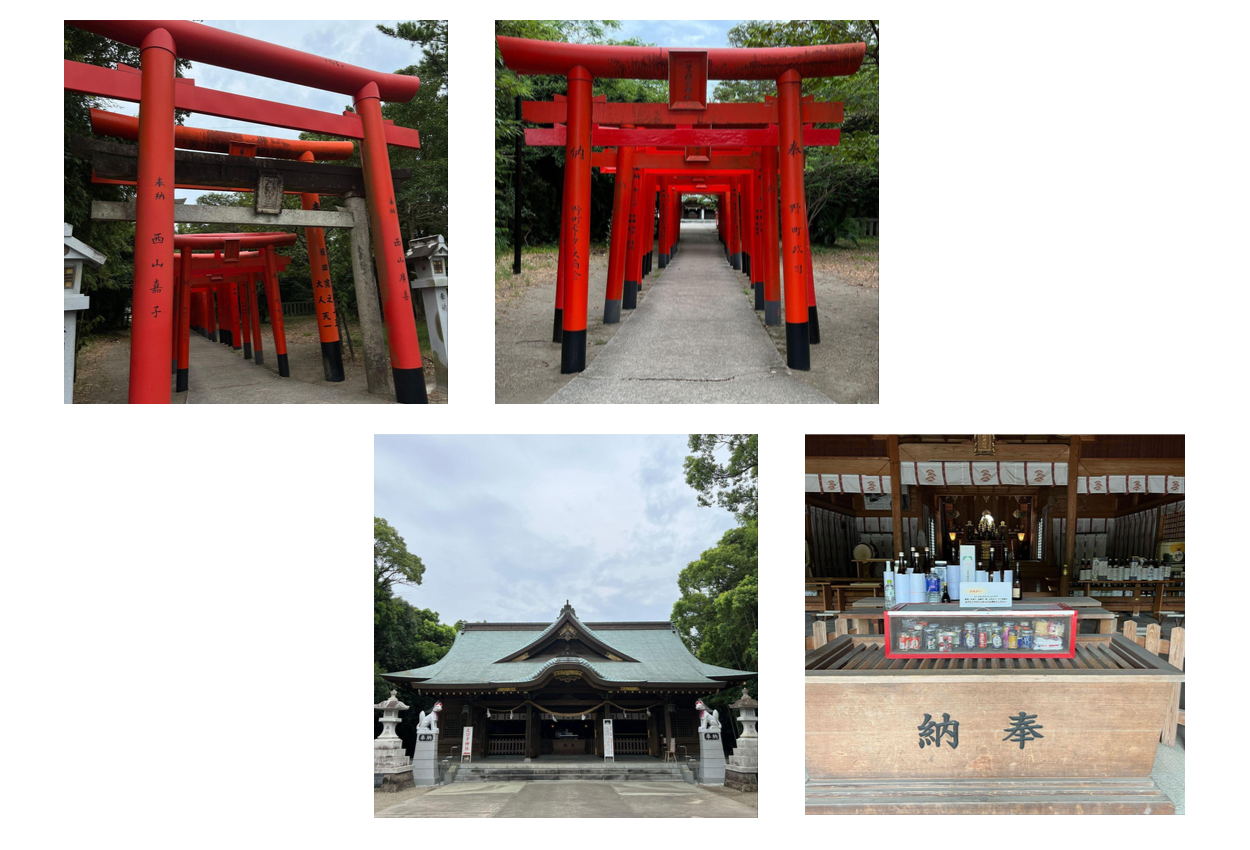 The second place, Hitotsuba Inari-Jinja, does not look like the kind of shrine you'd find in downtown Miyazaki, but it acts as a respite from city life while still being convenient to some great stores and restaurants in the area. The red torii gates are impossible to miss, and the grounds peaceful to walk around. An Inari Shrine is one dedicated to the god Inari, a popular deity in Japan who is associated with foxes, business prosperity, and general wellbeing.I'd said that's worth giving him a coin or two when you visit.

Hitotsuba Inari Shrine
Maehama-1402 Shinbeppucho, Miyazaki, 880-0834
Map Code 66 325 310*03

*approx. 15min by car
Nishitachi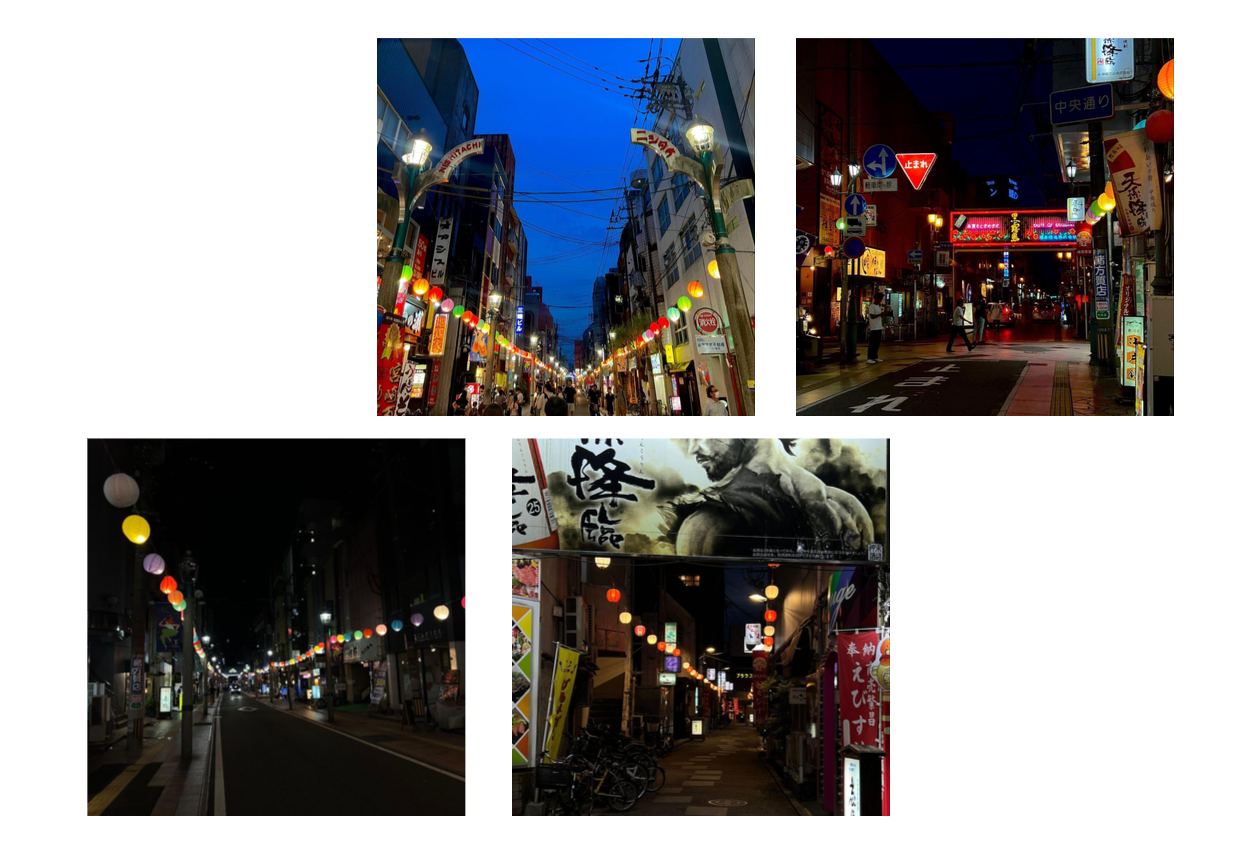 After my leisurely stroll, I headed to Tachibana-Dori, the heart of downtown Miyazaki and the location I recommend booking a hotel at for convenience's sake. As you can probably imagine, after my day I needed a quick coffee and nap before heading out again with friends to enjoy the nightlife.

Nishitachi is the restaurant and nightlife district of Miyazaki, with over 1500 restaurants in just this area alone. Trust me when I say you won't go hungry here. Walking along the streets feels like traveling back in time to the retro Showa Era, and you're sure to have a good time exploring all the different restaurants, izakayas, and bars.

While of course everyone should always take the proper cautions while out drinking in a city, I can say that I've never felt safer enjoying nightlife as a young woman than I have in Miyazaki. And let me tell you, nobody does drunk food quite like Kyushu, and I am inherently biased to love the food in Miyazaki most of all. Nikumaki, a rice ball wrapped in Miyazaki beef and slathered in sauce, might be the best thing you could ever eat while tipsy at midnight.

There's also spicy karamen, light udon, chicken nanban, charcoal grilled chicken, yakiniku, and more! My favorite type of places to spend a night out in Japan are called tachinomiya, or standing bars, where strangers become friends easily as shochu fuels easy conversation. My travel companion and I stayed out until the wee hours of the morning, starting with sipping Miyazaki-made shochu in a tachinomiya and ending with performing English songs at a karaoke bar for the enthusiastic patrons before I made my way back to the hotel to finally get some sleep.

GOAL
Google Map may not be displayed properly if the maximum daily data usage is reached.
People who viewed this page also viewed these pages.