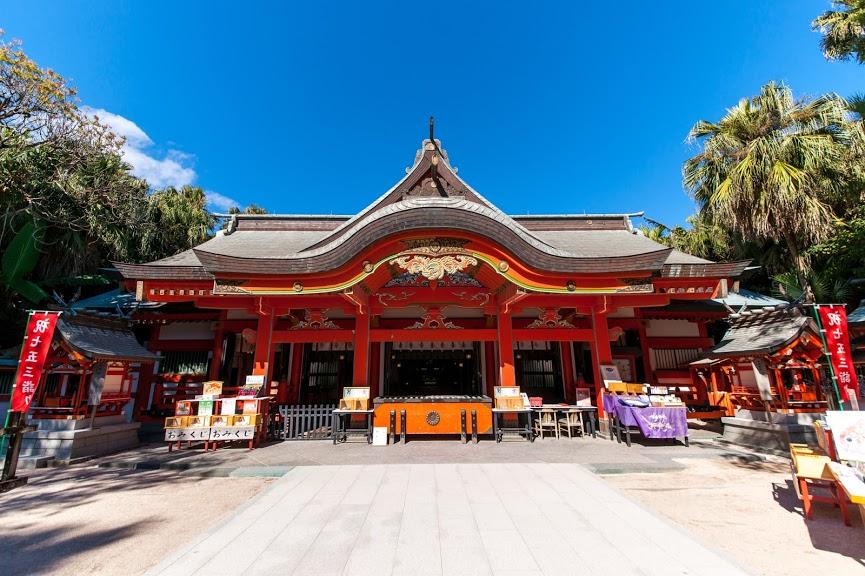 About Miyazaki City
Miyazaki City is located on the south side of Kyushu. We introduce here recommended spots, popular experiences and tasty foods of Miyazaki City.
Beach Resort with a Mild Climate
Miyazaki City is located along the coast on the south side of Kyushu. It is warm and sunny all year round, so you can spend your time comfortably. A beautiful coastline extends out here. This means you can enjoy sea bathing and marine activities. The highlights of Aoshima, an especially popular spot, include wavelike rocks called the "Washboards of Demons" and Aoshima Shrine on the island. You will be fascinated by the contrast between the bright vermillion torii gate and blue sea. There are plenty of souvenir shops and restaurants, so you can spend all day here.
Many Ancient Japanese Legends and Historical Spots
There are lots of spots that are the stage for ancient Japanese legends in Miyazaki City. Miyazaki Shrine is a shrine where Japan's first emperor is enshrined. There is a sacred atmosphere here. Aoshima is also a stage for love in legend. Aoshima Shrine on the island is famous for being home to the god of marriage.
Sports Thrive to the Extent Global Tournaments Are Held Here
Miyazaki City is famous as an area for the training camps of baseball, soccer and other professional sports. In addition to global tournaments in surfing, triathlon and other sports, three events on a professional golf tour are held annually here.
Plenty of Tasty Foods
In addition to Miyazaki beef, which has been selected as the best beef in Japan, Miyazaki City is a treasure trove of attractive ingredients. These include the local cuisine of charcoal grilled chicken and ripe mangos with excellent rich sweetness and aroma.