Miyazaki city and Takachiho: A journey through Japanese mythology and power spots(One night in Takachiho / One night in Miyazaki city)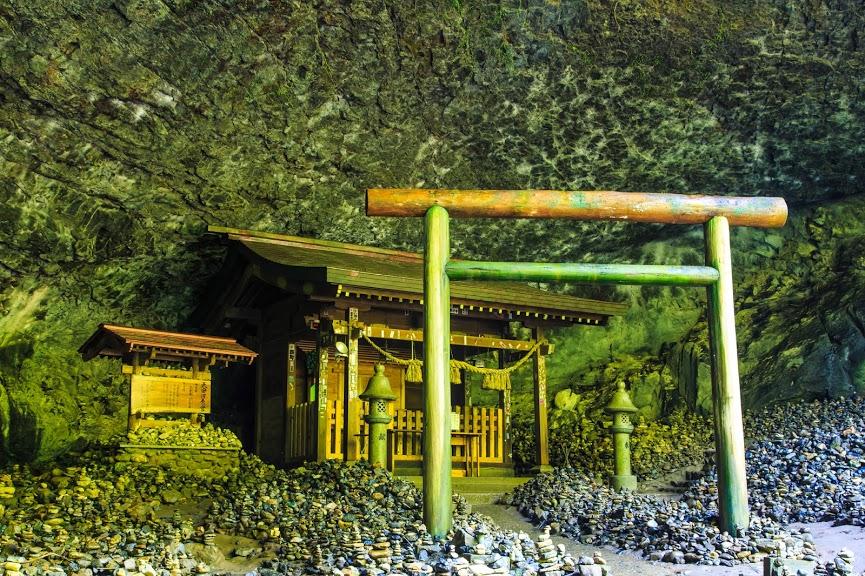 There are many locations thought to be flowing with mystical energy in Miyazaki that is said to be the home of legends! You can refresh both your mind and body by visiting these spots with a high level of efficiency!

Power spot: is a phrase commonly used in Japan for spiritual locations that hold a special energy that empowers those who visit.
Suggested Time:One night in Takachiho / One night in Miyazaki city
Main modes of transportation:Drive・Walk
START
Breakfast: Udon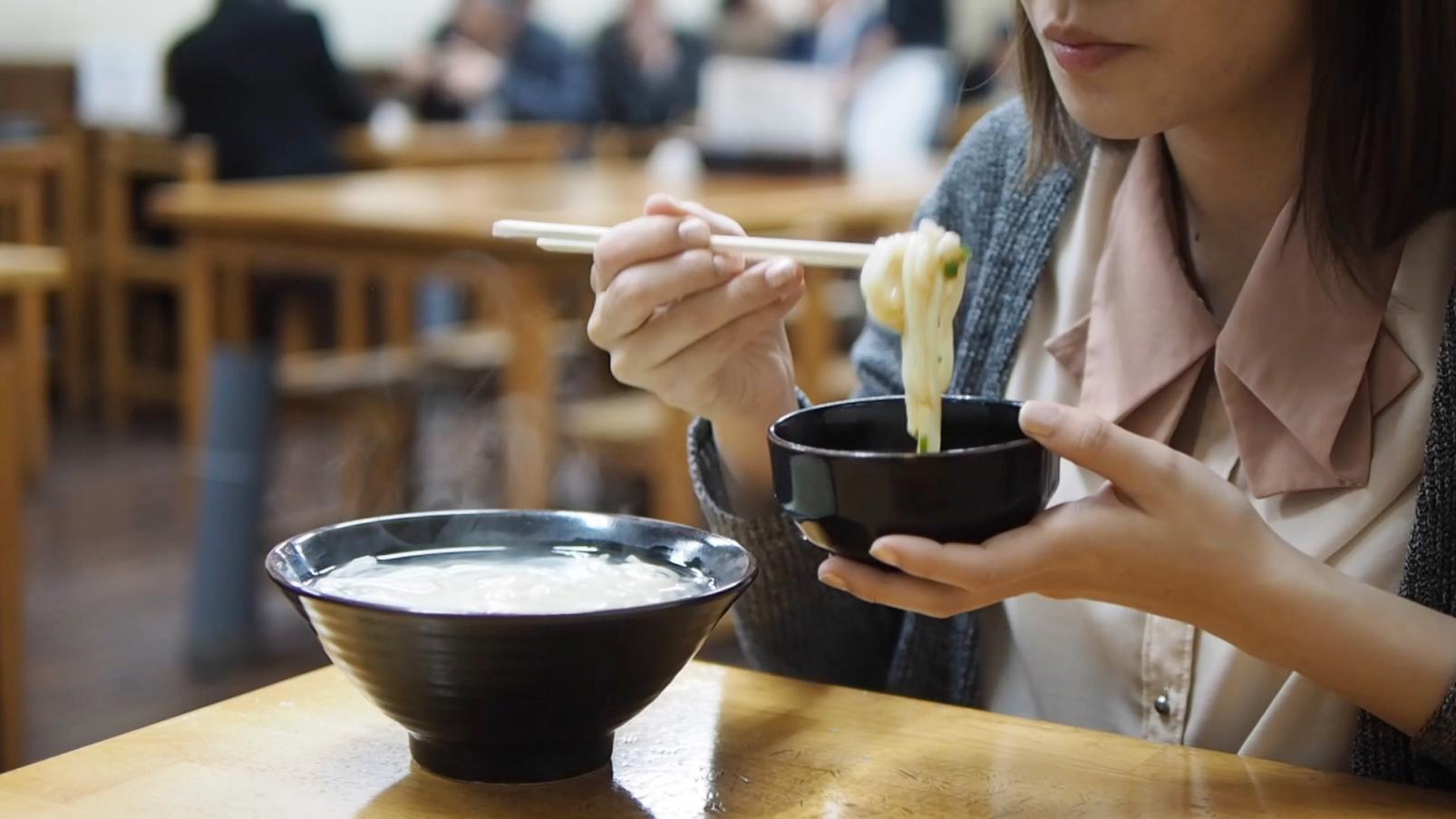 Udon, the comfort food of Miyazaki?
As surprising as it may sound, it isn't an overstatement to say that udon is the comfort food for Miyazaki people. Kamaage udon which is known as a local delicacy is rumored to have originated in Miyazaki!? There are a countless number of top-quality udon restaurants in Miyazaki, from Oomori Udon which was established during the Tisho era over 100 years ago, to Shigenoi known as the birthplace of Kamaage udon. This is not widely known, but udon dashi soup is packed full of nutrients. Bonito flake dashi soup includes protein, vitamine D, and potassium, while Kombu dashi soup includes a great balance of minerals such as calcium, sodium, and potassium. Kombu dashi soup doesn't include any animal-based products, making it the perfect dish for vegetarians.


*approx. 80min by car
Stairs of the Sea (Hyuga) around 1 hour from Miyazaki city by car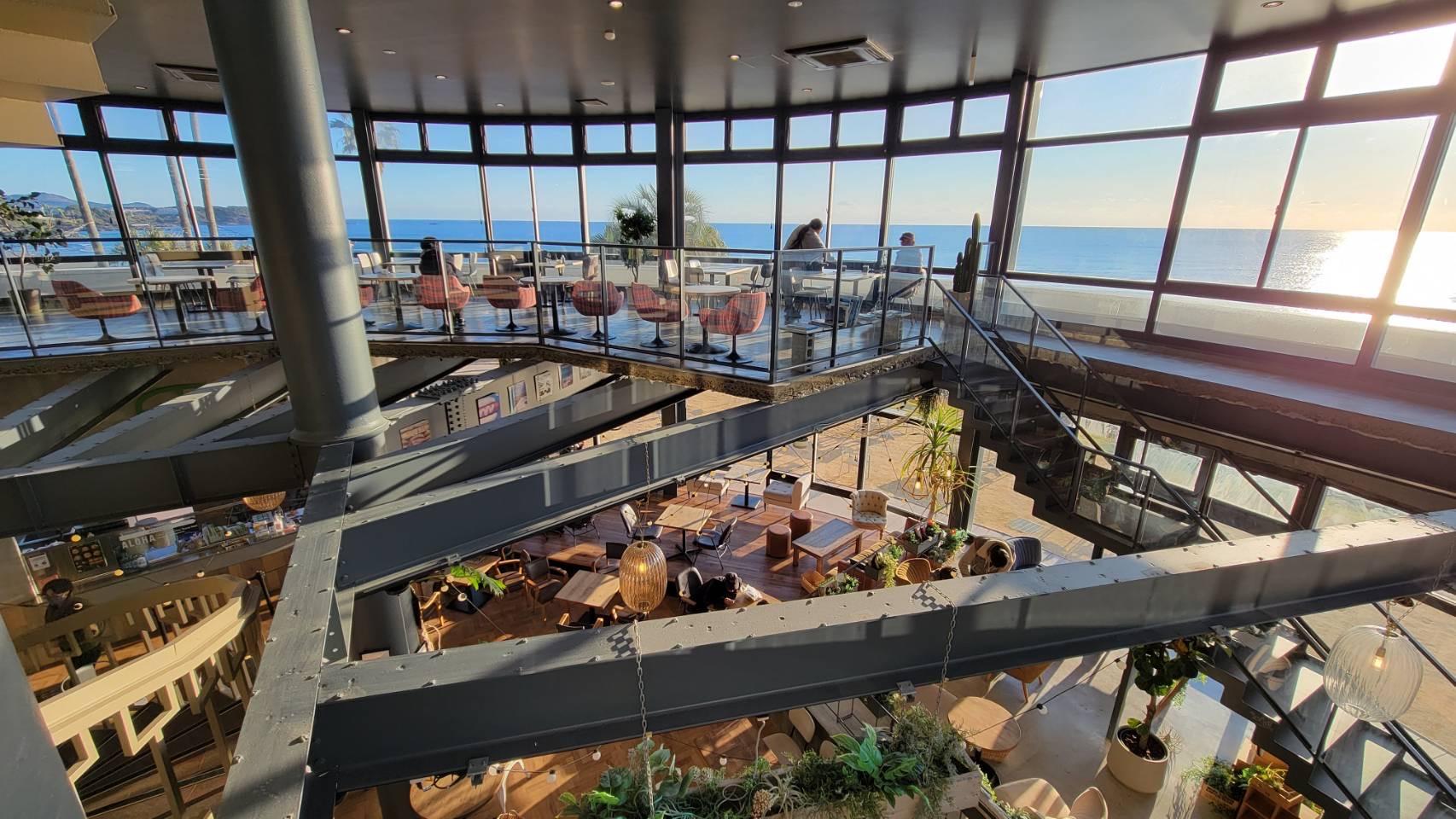 A popular new spot that opened in 2019, located at Kanegahama in Hyuga city which is one of the most popular surfing points in Japan. The stairs of the sea is a mini-mall that includes a variety of restaurants, cafes and shops. An Italian restaurant operated by a local Hyuga chef, a famous Hawaiian hamburger shop, a deli packed full of local produce and a gelato shop that uses Miyazaki fruit are some of the highlights you can find here. All of this in a beautiful building that overlooks Kanegahama beach and the Pacific Ocean.

・Lunch recommendation: THE NOODLE SHOP
You won't find anything like this anywhere else! A menu packed full of surprises. From the prawn tomato noodles made with selected local produce, to the Miyazaki hebesu noodles which is only available as a limited seasonal menu.
・Head down to the Kanegahama view park after your meal: A 3-minute walk or a 1 minute drive from Stairs of the Sea
A tropical photogenic spot filled with palm trees, sunflowers and cosmos flowers.



*approx. 60 min drive from Stairs of the Sea(Hyuga)
Village cafe and lunch Neko-no-shippo (a cat's tail)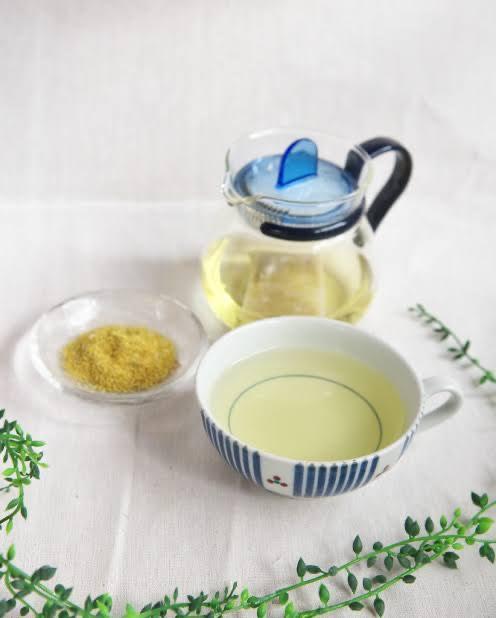 A cafe in a traditional Japanese house that was built over 60 years ago, located in a back alley that is only a 3 minute walk away from Takachiho shrine. The store has a selection of cat themed goods that the owner hand picked. The cafe serves blended tea made from organic herbs, a selection of homemade juices made with fruits such as plums and kinkan, and a Yakuzen lunch made with healthy seasonal local produce. The owner, Mr Nagasawa, prepares everything by hand daily with a theme of bringing comfort to the mind and body.
*Please confirm opening hours before visiting.
Contact information:
0982-82-2256
https://neko-no-shippo.com/
About a 10min drive
Aratate shrine: Receive good fortune
Pray for help with love, the arts, traffic safety and education!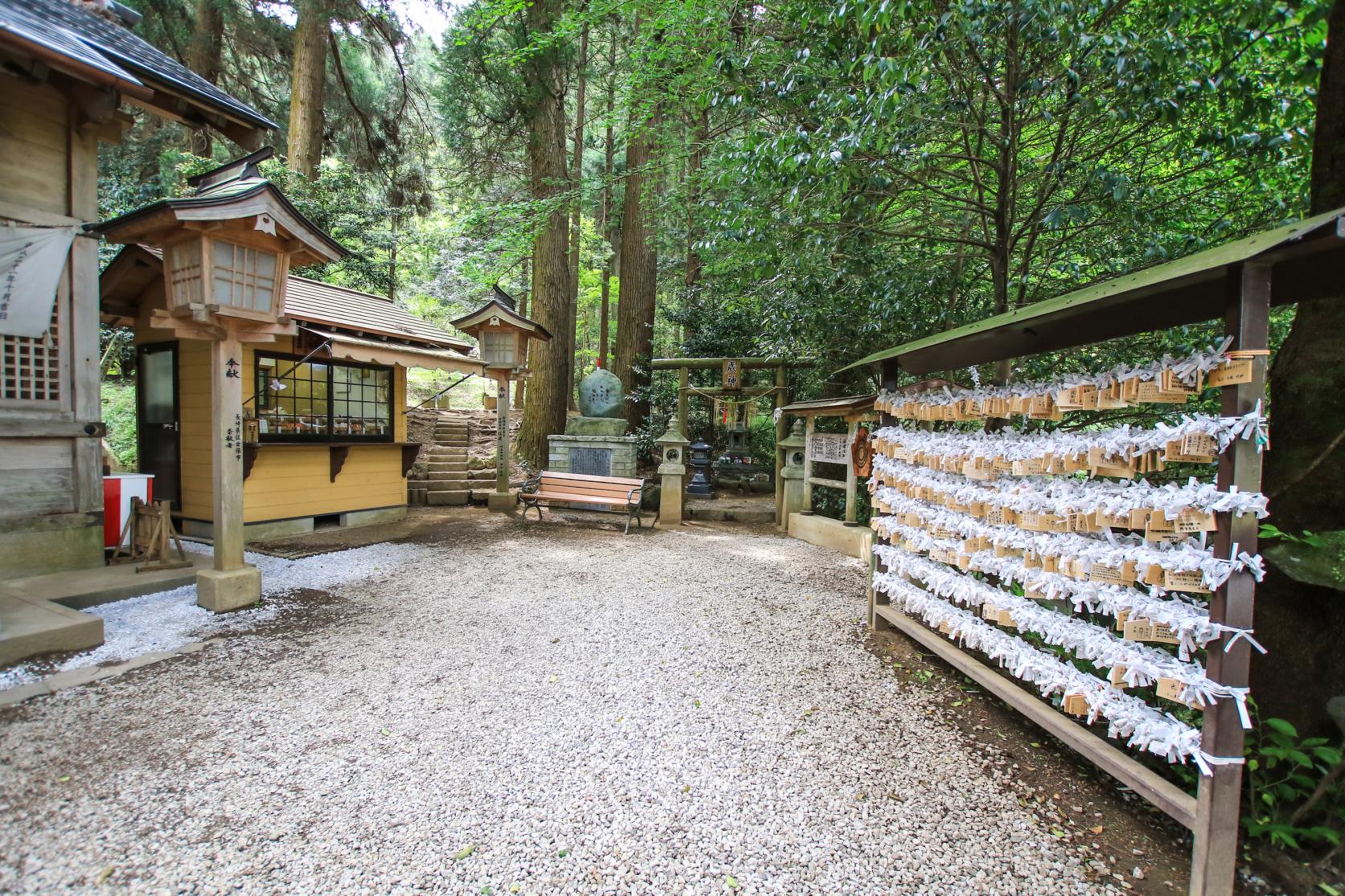 A shrine that is often visited by celebrities, Aratate shrine is said to bring good fortune in show business and marriage. This shrine is dedicated to Sarutahikono-mikoto and his wife Amenouzumeno-mikoto who gave directions to Ninigino-mikoto the grandson of the sun goddess upon his descension from the heavens. While walking through the grounds of the shrine, you will see ancient trees called sakagi which are said to grant wishes. One of these trees called Shichi-fukutoku-jyubangi is said to grant 7 wishes to those who hit the tree 7 times. Take your best shot and stock up on good fortune!
*approx. 10 min drive from Aratate shrine
Amaterasu railway: A short scenic trip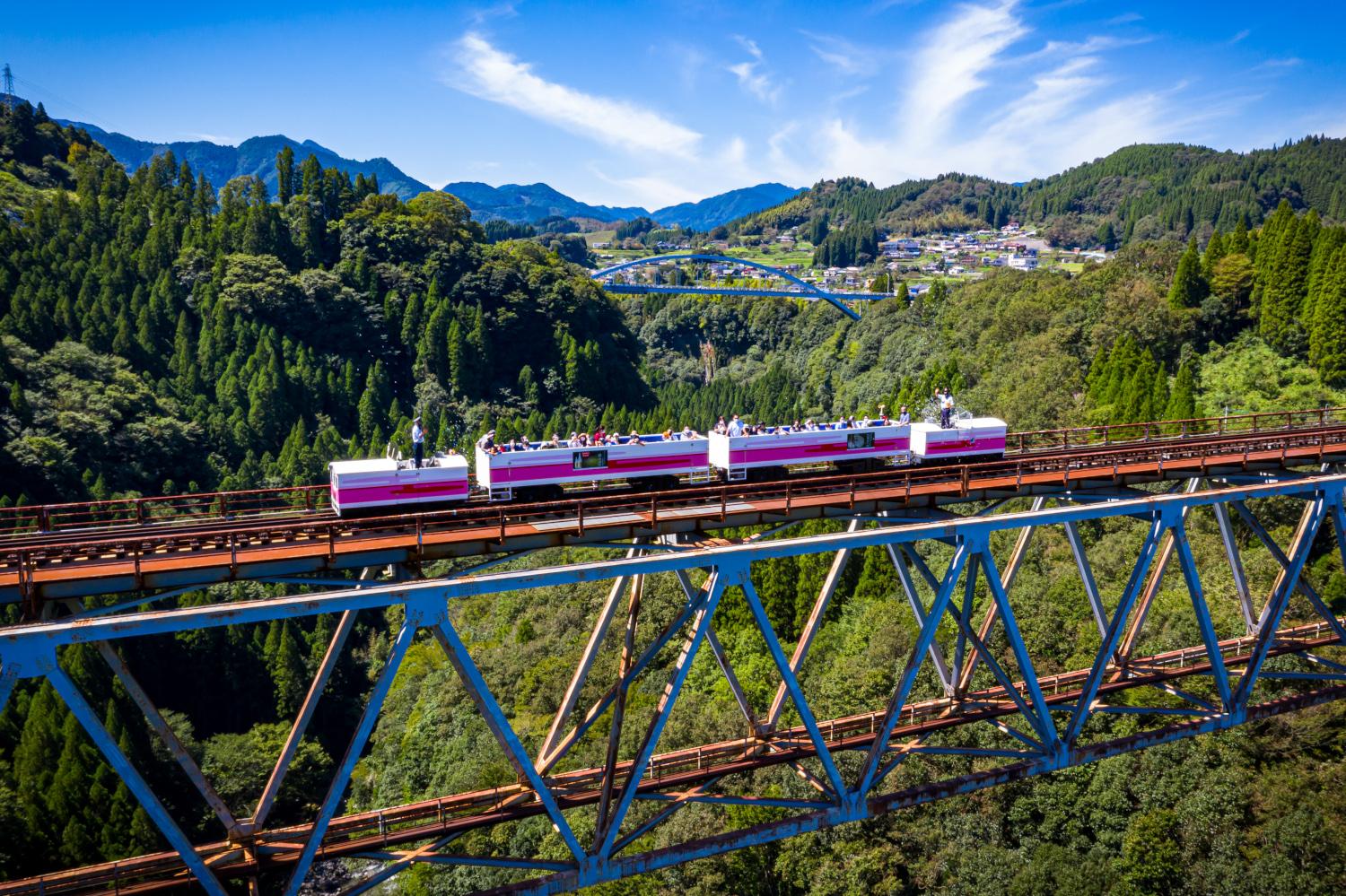 A short 30 minute 5.1km round trip, where you can enjoy some truly marvelous scenery unique to Takachiho, a town of valleys. The Grand Super Cart, which fits 30 people, has a reinforced tempered glass floor that gives you a view of the train track passing below the carriage and a spectacular view from the highest point of the Takachiho railway bridge (105m tall) looking down into the valley. Take some deep breaths and enjoy the pristine air! The scenery that changes with the seasons is sure to take your breath away. The train departs at set times throughout the day, so make sure to check the schedule before heading to the station.
*Check the schedule here: https://amaterasu-railway.jp/attraction


*approx 5 min drive from Amaterasu railway
Takachiho Gorge: Power charge and reset
A mysteriously beautiful gorge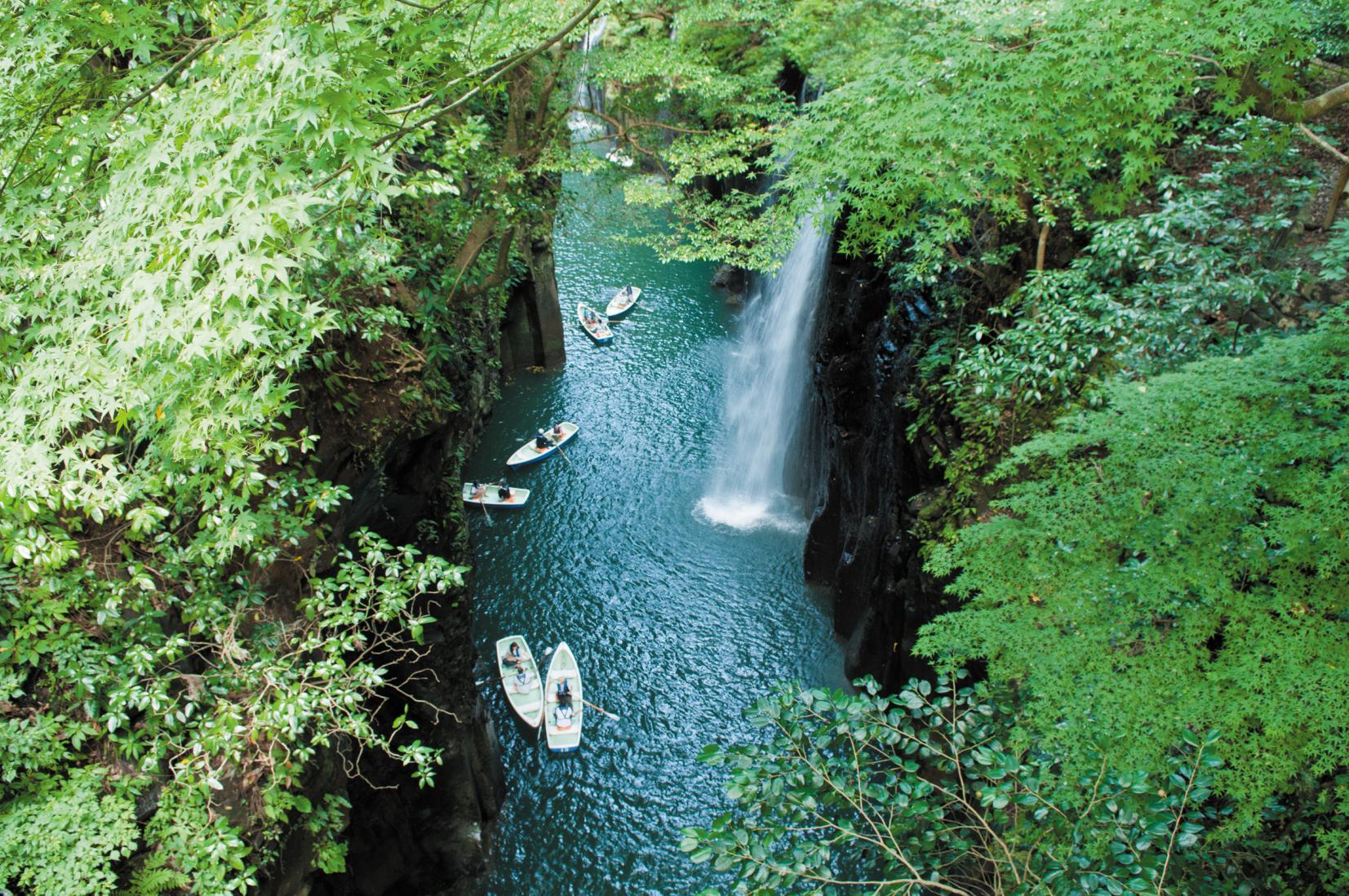 The Takachiho gorge was formed by flowing larva that came flowing out of the Aso Volcano in ancient times. The vertical cliffs that were created from this event, stand over 80m tall and span a length of over 7 kilometers from east to west. There are many interesting things to check out along the walking course with scenic lookouts and notable locations related to Japanese mythology such as Onokoro island, Tsukigata, and Kihachi-no-chikara-ishi. The Manaino falls, which was selected among the top 100 waterfalls in Japan, can be viewed up-close if you rent a rowboat to explore the gorge. This is a very popular activity for tourists who visit the area. A location that is registered as a national natural monument for its scenic beauty, this is a scenic power spot that you shouldn't miss.
*Please check if the rowboats and car parking area are operational before visiting: https://takachiho-kanko.info/sightseeing/taka_boat.php


*approx 5 min drive from Takachiho Gorge
Takachiho shrine: Happiness in marriage and success with love
Go around the Fufu (Married Couple) Cedar three times and you will be blessed with marriage! Visit with that special person!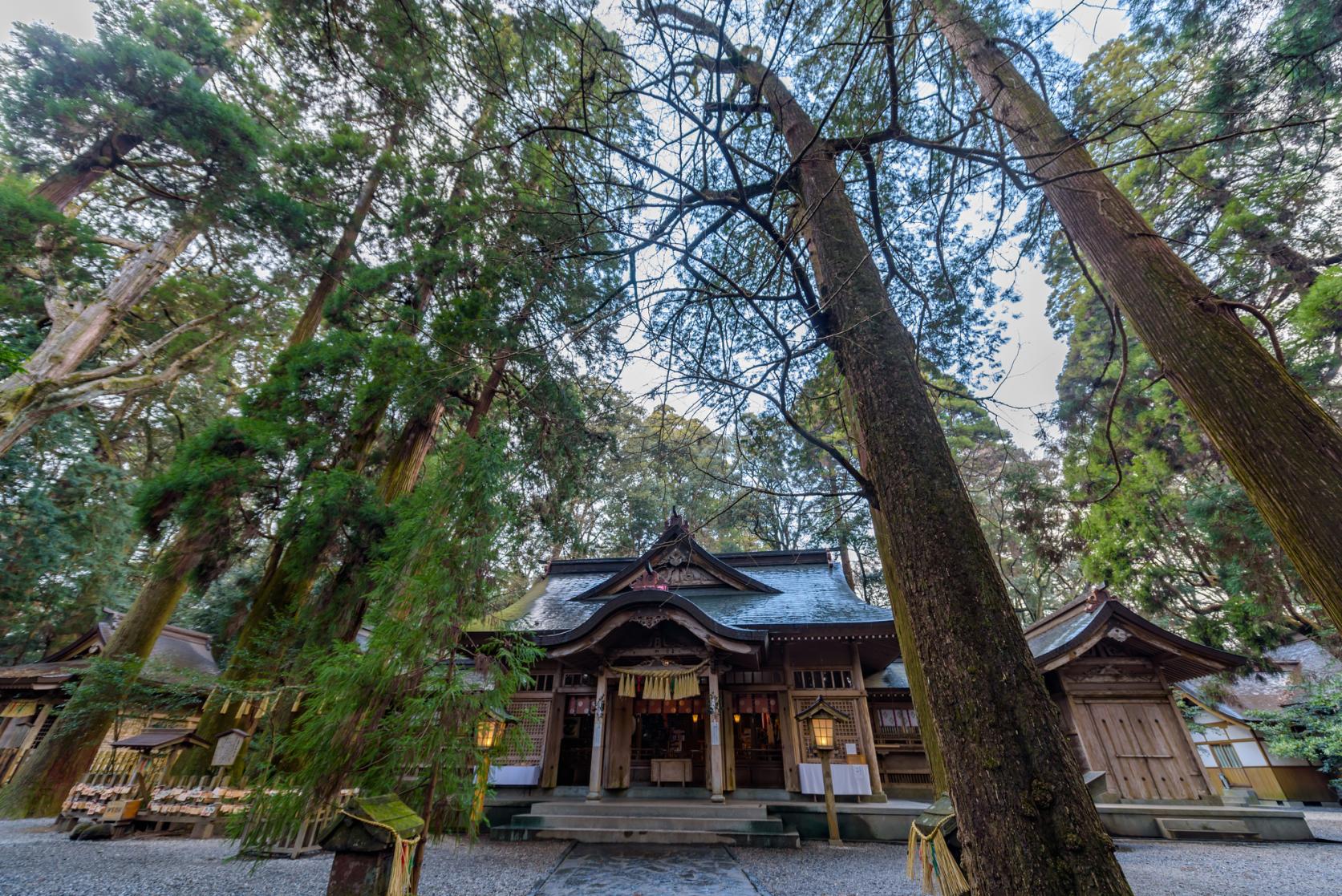 Among the 88 shrines constructed within Takachiho around 1900 years ago during the era of Emperor Tarunin, Takachiho shrine has gathered many worshipers for its fortune in agriculture, marriage and warding off bad fortune. The sacred tree that sits next to the main shrine is called Meoto-sugi, which are 2 cedar trees that are joined at the base. It is said that couples will be blessed if they walk around the tree three times holding hands. At Takachiho shrine, you can also watch a performance of Yokagura, a short version of Kagura, which is a dedicatory ritual that is performed at each village within the Takachiho area. Performances are held 365 days a year at the Kaguraden within the shrine's grounds.
*The Yakagura performance schedule is subject to change due toCOVID_19. Please Check in-advance with the Takachiho Tourism Association.

*approx. 3 min drive from Takachiho shrine
Kushi-furu shrine: The sacred grounds where the grandson of the sun goddess descended from the heavens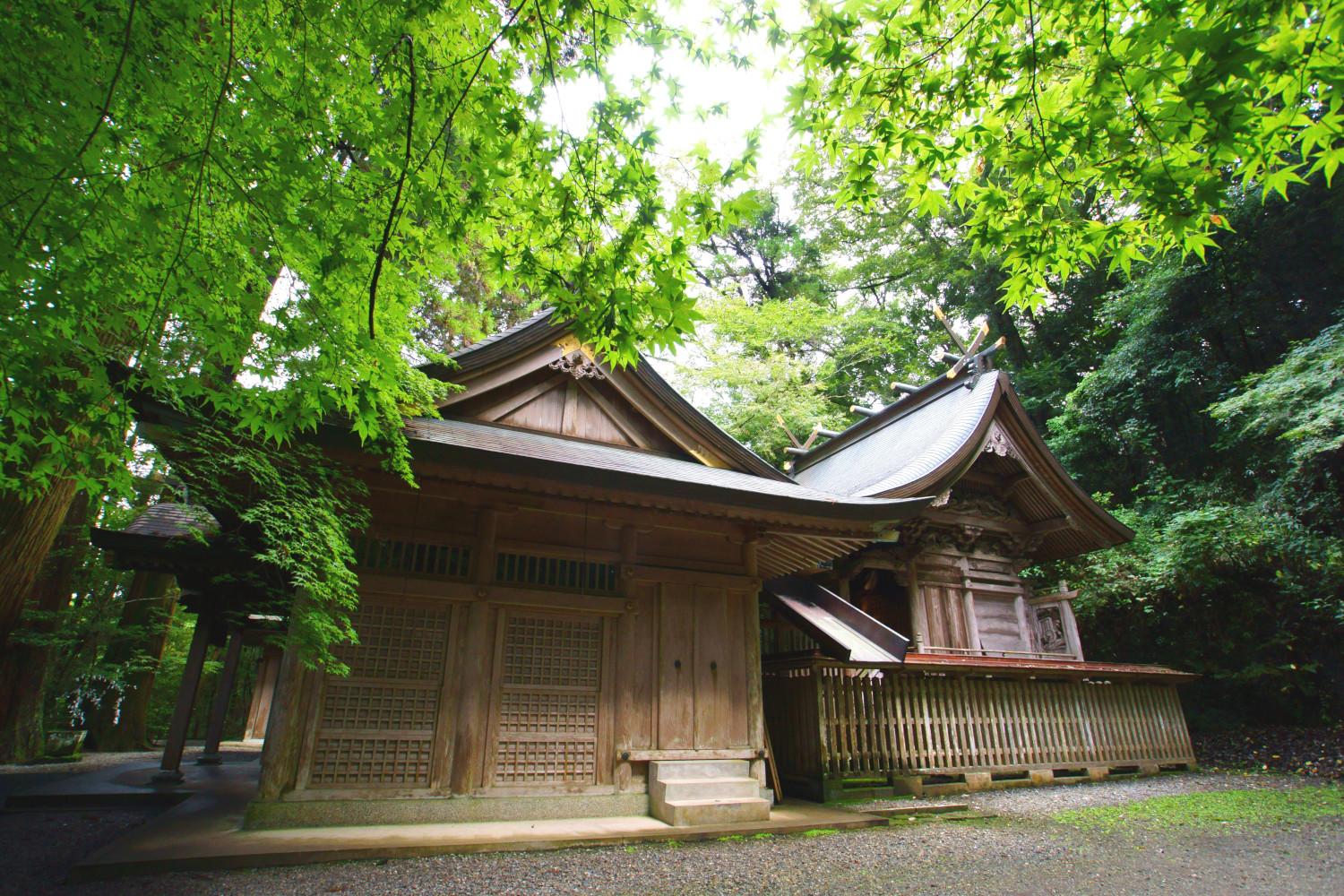 Ninigino-mikoto who is the grandson of Amaterasu-oomikami who appears in the myth of Iwato-hiraki, is said to have descended from the heavens at this location. The shrine was constructed in 1694 to worship the land that he descended upon. The inside of the shrine is adorned with beautiful wood carvings that are based around the teachings of Chinese morality that came from China. The Takamagahara-yohaijyo where it is said the heavens where the gods live were looked upon, can also be found along the walking course. This is a power spot that has an especially solemn atmosphere among the many locations within Takachiho that have ties to history and Japanese mythology.
Show Details

| | |
| --- | --- |
| Address | 13 Mitai, Takachiho-cho, Nishiusuki-gun, Miyazaki Prefecture |
| Telephone Number | 0982-73-1212 |
Stay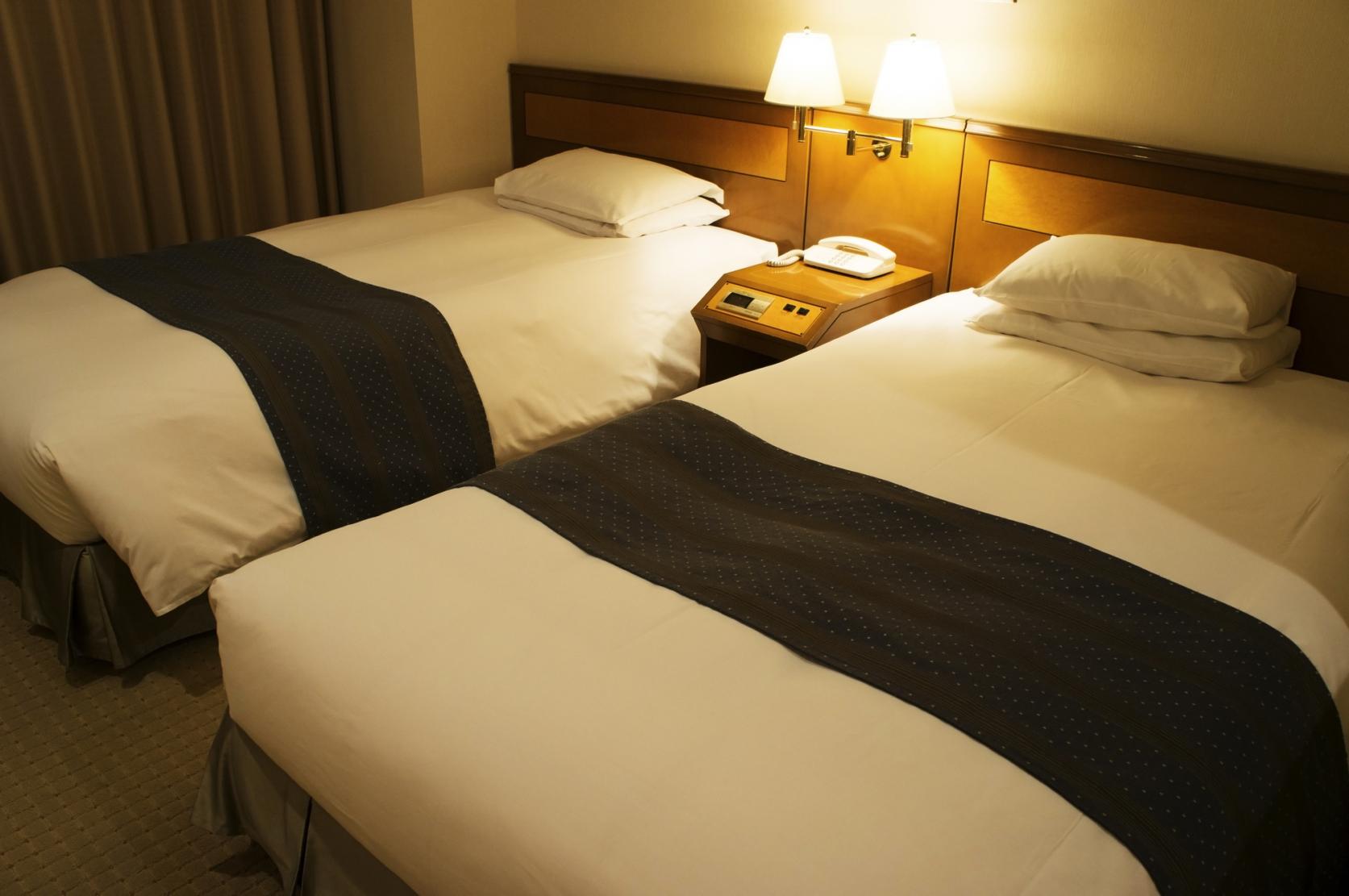 ●Sankaku - Takachiho town travelers inn
Located only a 3 minute walk away from the Takachiho bus center, in the center of town. This 4 bedroom inn is housed in a renovated traditional Japanese house that has been well looked after for over 70 years. You can book just a room or a room with 2 meals depending on your style of travel. The owner Asuka-san is very friendly and always available to discuss your needs. All meals are prepared by Asuka-san and served at table with other guests, creating a warm homely atmosphere.
*Contact information, phone: 070-8349-6885
https://sankaku.house/room/


●Solest Takachiho hotel
A hotel that is located near Takachiho shrine that has great access to popular tourist locations. Breakfast is served buffet style and the dinners are packed full of local produce including rice from the terrace rice fields of Takachiho. There are 4 types of rooms to choose from depending on your group size and travel requirements with a variety of accommodation plans available. A room type that stands out as unusual, is the View bath twin room that comes equipped with an indoor bath that feels like an outdoor bath. A perfect pick for a special occasion such as an anniversary. The perfect hotel for those who want to see all the sites and enjoy staying in a hotel.
*Contact information, phone: 0982-83-0001
http://www.solest-takachiho.jp/

●Morino-yado Hotel Shikimi
A traditional Japanese style hotel that has 10 Japanese style rooms within the main building and 6 private villas. 4 of these villas are traditional Japanese style tatami rooms, but there is 1 villa that is made in a mixed Japanese and western style and a deluxe villa. There are a few dinner options that include a Takachiho beef steak course and a Takachiho cuisine revival course that resurrects dishes traditional to the Takachiho area and tells a story through its food. The breakfast is prepared with additive-free ingredients and prepared in a traditional style that includes over 12 items such as beans, miso oil, soba gruel, and one-night-dried yamame trout.
*Takachiho cuisine revival: Traditional Takachiho cuisine is served during traditional Kagura rituals. Some examples of this traditional cuisine include ancient black rice udon, kagura stew and kappo-zake (shochu heated inside green bamboo).
*Contact information, phone: 0982-72-3733
https://shikimi.jp/
ZigZag Village Walk
A village tour that lets you experience the people, the agriculture and traditional kagura.
With a local guide, you will walk though the area where the god of the sun went into hiding. Getting a glimpse into the locals' lives, you will discover the secrets of Kagura, an ancient ritual that has been treasured in this region for over 800 years.



*approx. 2-hour drive from Takachiho
Hitotsuba Inari shrine: For increasing your luck with money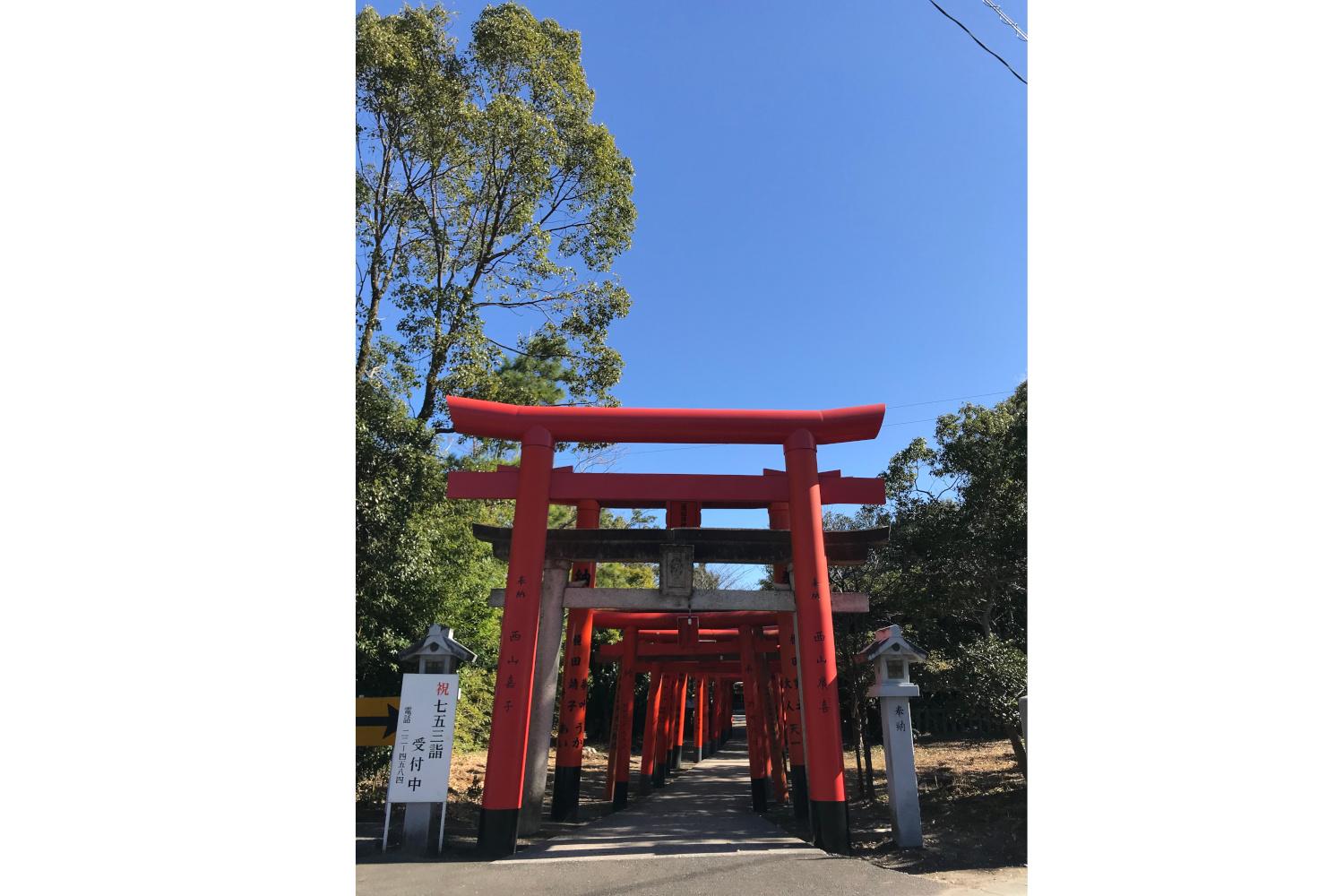 This shrine with it's 1000 vermillion-lacquered torii gates, leaves a strong impression on those who visit. It was constructed in the decade of 740 by the imperial rescript of Emperor Keiko and is said to bring blessings of prosperity in business. Within the shrine's grounds, there is a shrine called Zeni-arai jinjya (money blessing shrine) where you can bless your coins by washing them in holy water. It is said that you should keep these blessed icons in your wallet. Another lesser known fact, if you follow the arrows around the back of the shrine, you can find a monument to the white rabbit that is said to have saved the shrine from a tsunami that occurred as the result of a major earthquake around 350 years ago. This white rabbit is said to bring good luck while warding off natural disasters and misfortune.



*approx. 10min drive from Hitotsuba Inari shrine
Eda shrine: Reset
Miyazaki's leading spiritual spot!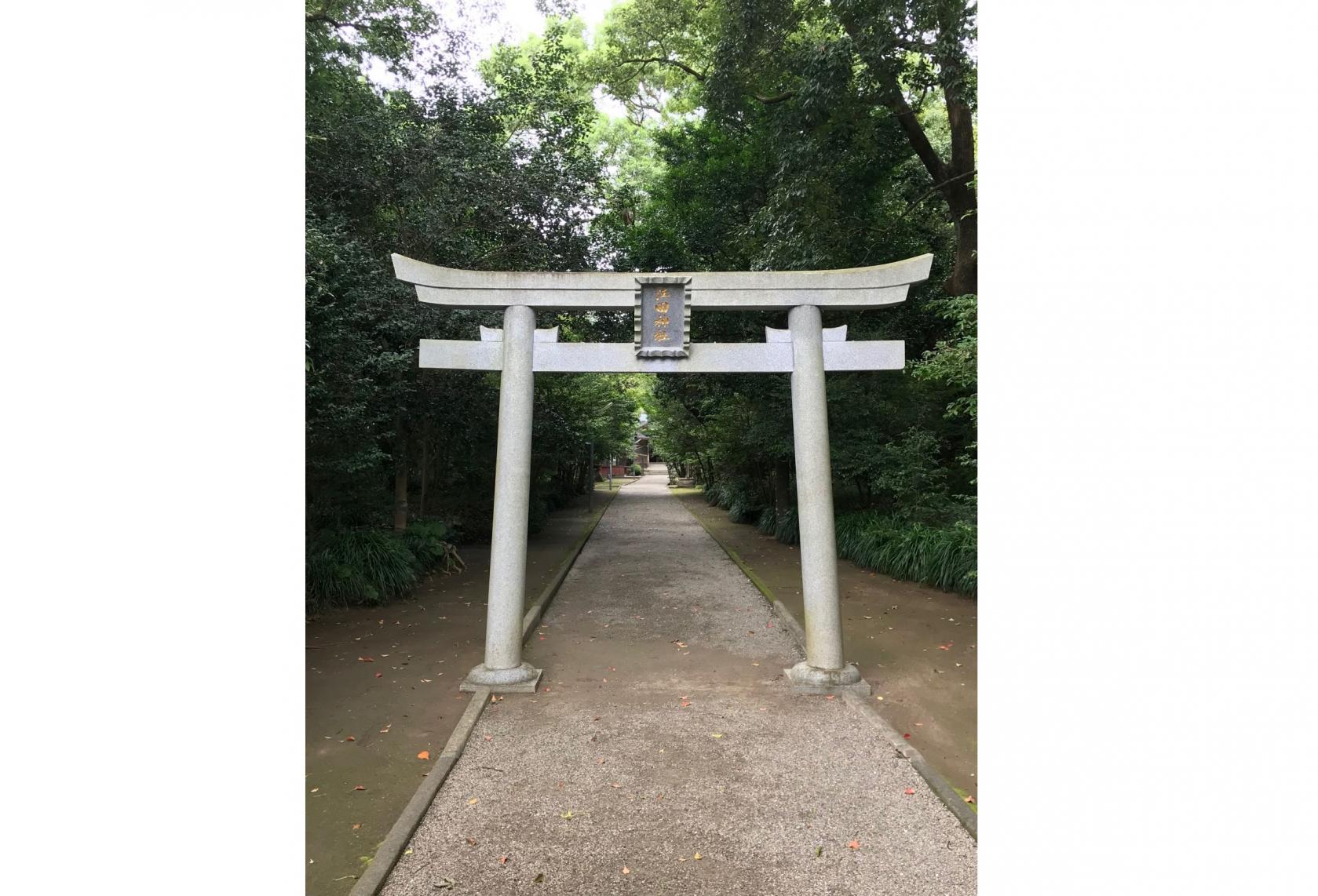 A power spot unique to Miyazaki that is known as a sacred place in Japanese Mythology! Izanagino-mikoto who appears in the ancient text of Japanese mythology, the Kojiki and Nihonshoki is said to have given birth to the land of Japan. He once tried to retrieve his beloved wife Izanamino-mikoto from the afterlife, but ended up fleeing back to this world because his wife had been turned into a horrible creature. The Misogi lake that can be found along the Eda shrine walk path is a very famous power spot, where Izanagino-mikoto is said to have cleansed himself before venturing into the afterlife.
Show Details

| | |
| --- | --- |
| Address | 127 Yabo from Awakigahara-cho, Miyazaki City, Miyazaki Prefecture |
| Telephone Number | 0985-39-3743 |
Dinner and night tour: Explore Nishitachi, Miyazaki City
Savor the food of Miyazaki in Nishitachi - Miyazaki's largest entertainment district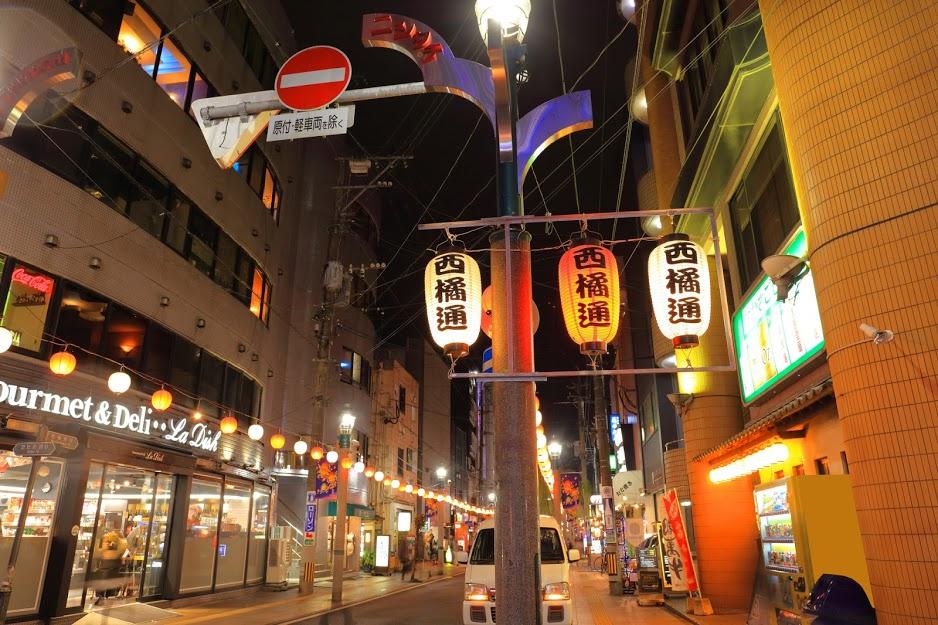 Indulge yourself with Miyazaki beef and local delicacies in Miyazaki city! The largest nightlife area in Miyazaki, Nishitachi is packed full of restaurants, izakayas, bars and nightlife spots that are all unique in their own way. Snack bars, a style of bar unique to Japan, is a great place to mingle with the locals over a few drinks after dinner. If you are unsure where you should go, ask the staff at Snack Iriguchi a snack that recommends other snacks.
Snack Iriguchi:
https://sunakkuadvisor.com/iriguchi/
・Bar hopping tour
Join our bar hopping tour, and local guides who are regulars of Nishitachi will take you to the restaurants and bars they recommend! A tour where you can mingle with the friendly regulars on Nishitachi, while enjoying delicious food and alcohol.
*Bar hopping tour: Our local cast will guide you through the world of Nishitachi.
Contact:info@otonau.com
Stay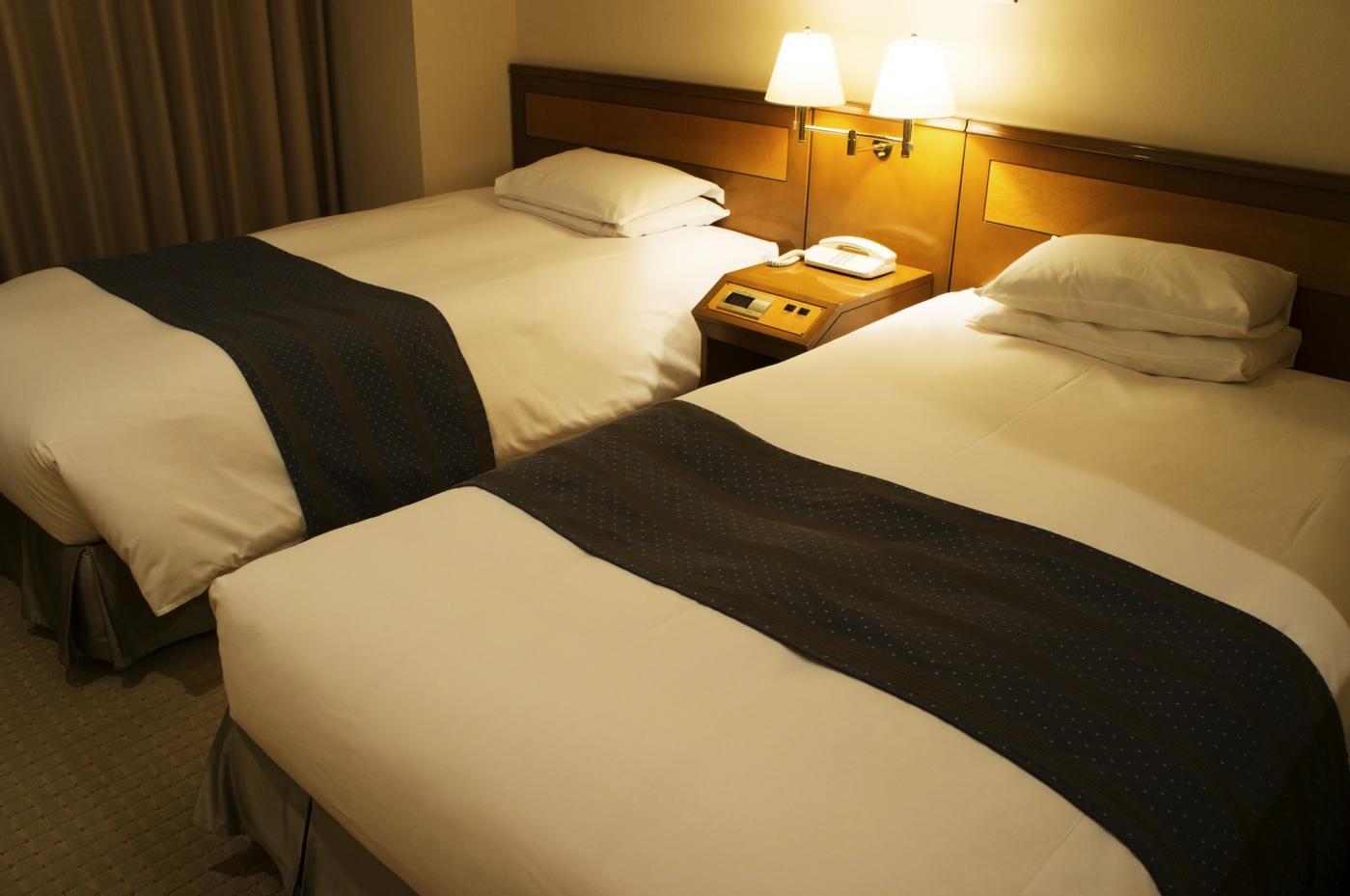 We recommend you stay in the area around Miyazaki Station where transportation is convenient and the area around the Nishitachi which is the largest entertainment district in Miyazaki.
GOAL
Google Map may not be displayed properly if the maximum daily data usage is reached.
People who viewed this page also viewed these pages.