A journey through Japanese mythology and power spots(One night in Takachiho / One night in Miyazaki city)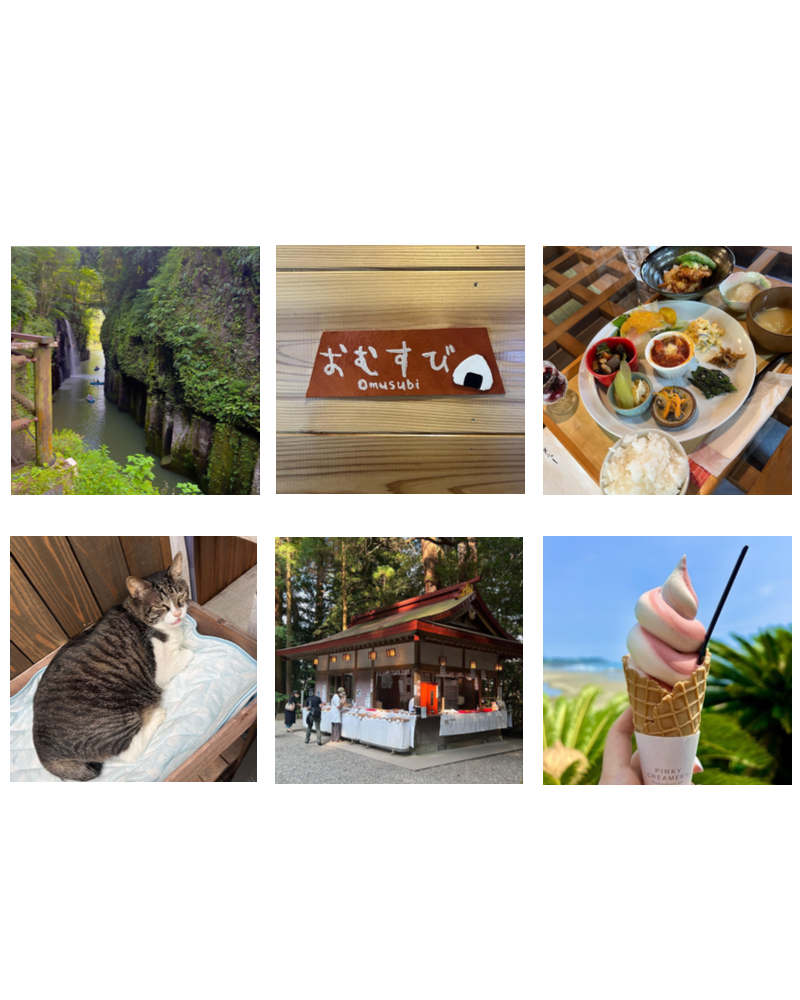 Two days isn't nearly enough time to explore all the beauty Miyazaki Prefecture has to offer, but it's a great start.

Allow me to introduce myself. My name is Kate Bushong, the Coordinator for International Relations of Nichinan City. I'm a 27 year old American who loves travel, art, drinking too much coffee, and meeting people from all walks of life.

I've lived in Miyazaki for over 3 years now, and I love exploring my own backyard. This prefecture has all sorts of gorgeous spots, delicious eats, friendly people, and fun adventures on offer.

Let me take you on a trip that'll give you a taste of both country and city life here in the sunny side of Japan.

Note: Since I've recommended renting a car for road tripping around Miyazaki, I've attached map codes to all the addresses. Map codes in Japan are a set of numbers that correspond to a location's latitude and longitude. Your rental car will come with a Japanese GPS built in, and I recommend using these codes instead of wrestling with typing out the Japanese address. Hope this helps!
Suggested Time:2Days(1/2)
Main modes of transportation:Car
START
Kyushu Pancake Cafe, Miyazaki Honten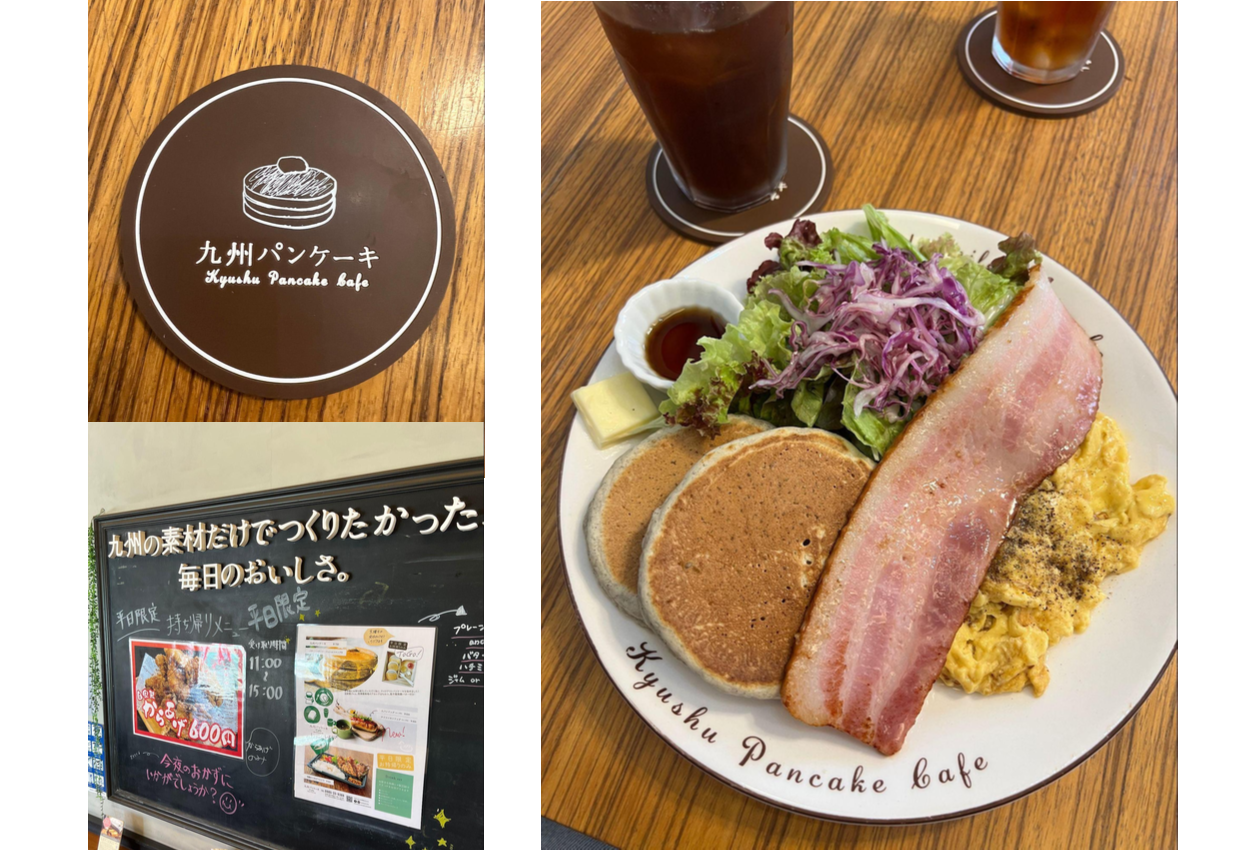 I won't lie: Early morning breakfast places in Japan are few and far between, but luckily Miyazaki City has a great spot to start the day. Introducing the Kyushu Pancake Cafe!

Japan may be known for the souffle pancakes that you see jiggling on Tiktok, but I can assure you that Kyushu pancakes are far more satisfying when you want a good breakfast. These seven-grain pancakes are made with ingredients from every prefecture in Kyushu, hence their name. They're all-natural, healthy, filling, and fueled me with energy to drive up to my next destination.

I ordered the morning set, which comes with pancakes, bacon, eggs, and salad—food of the gods after a night of drinking. The cafe plays soothing indie music, and there's both savory and sweet pancakes on offer, so you can enjoy any kind of breakfast.

Kyushu Pancake Cafe, Miyazaki Honten
1 Chome-2-2 Takachihodori, Miyazaki, 880-0812
Map Code: 66 291 610*41
Show Details

| | |
| --- | --- |
| Address | 1 Chome-2-2 Takachihodori, Miyazaki, 880-0812 |
*approx. 90min by car
Stairs of the Sea
It takes about an hour and a half of driving through pretty mountain roads to reach Hyuga's Stairs of the Sea. This place is more than just a rest stop, but a destination on its own, with delicious food, beautiful views, and even better waves. It was mid-morning and I settled on an unconventional, yet delicious, meal: The Noodle Shop's arrabiata with craft ginger ale. A giant bowl of spicy tomato broth, chewy noodles, and plenty of veggies filled me up without making me want to have a nap.

Stairs of the Sea isn't just a place to relax with a meal though, so I grabbed my iced drink and headed out into the blazing sun (don't forget your UV protection!) to walk along the backyard beach. Here in Japan, it's pretty common to see people take a walk after having a meal, and what better place to do so than along the beautiful Kanegahama beach?

After my walk, I swung by the beachside ice cream shop, Pinky Creamery, for a swirl cone that almost immediately started melting in the Kyushu heat. Fresh strawberry and vanilla ice cream is always worth a bit of mess though, and I highly recommend a sweet treat before setting off on the road again.

Stairs of the Sea
2217-3 Hiraiwa, Hyuga, Miyazaki 883-0022
Map Code 136 074 599*66
*approx. 70min by car
Neko no Shippo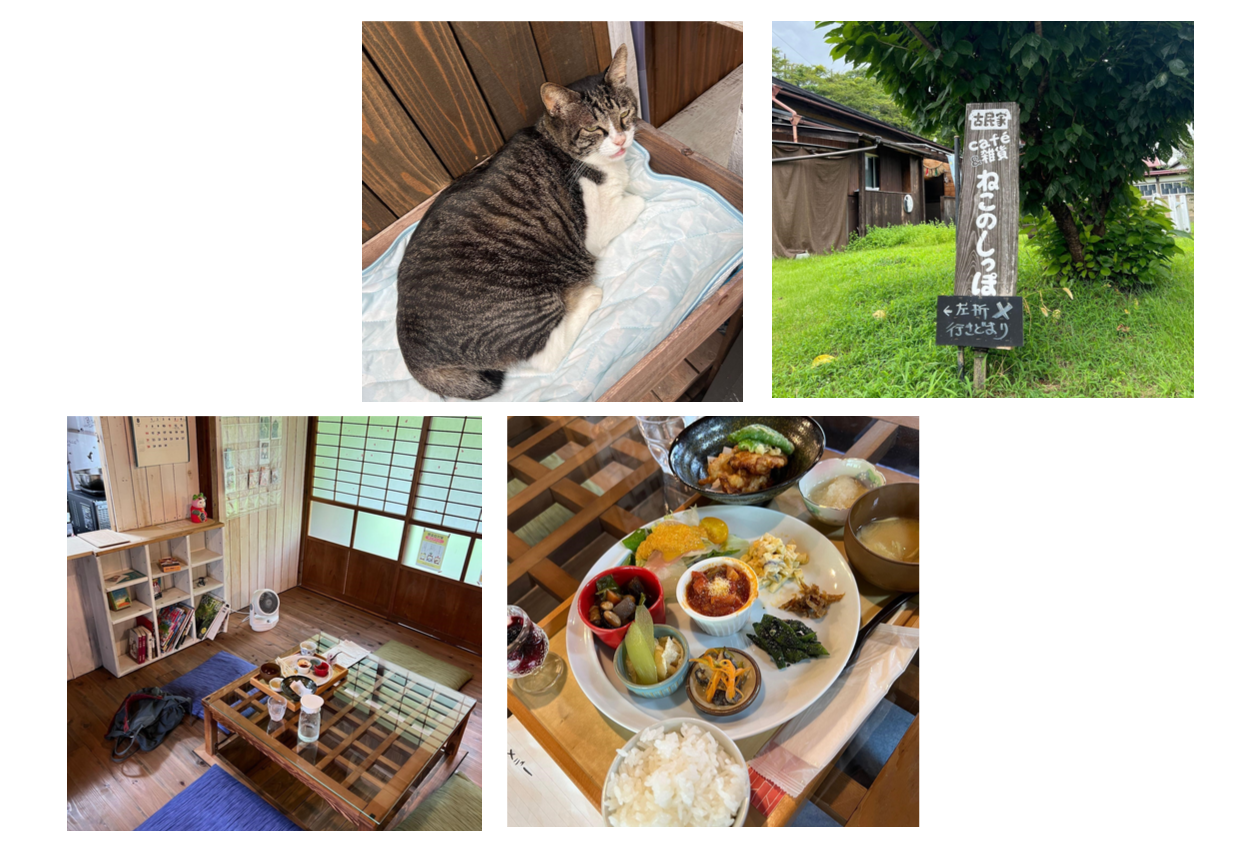 Upon arriving at Takachiho, I stopped by a cozy cafe called Neko no Shippo, or "Cat's Tail" in English. It is known for its all-natural, healing, and delicious set meals, as well as cozy, cat-themed decor. As a cat person through and through, I was very excited to visit and say hello to the rather sleepy looking fellow outside before heading in.

The menu changes rather often, but I recommend the "Yakuzen Lunch." Yakuzen means medicinal cooking and originated in ancient Chinese culture. In recent years, it's seen a revival as people turn to more healthy, balanced diets. After my meal, I felt full but energized, and ready to take on the rest of the day!

And of course, I gave the master of the house a little pat on the head before getting in my car and heading off to continue my tour.

Neko no Shippo
1227 Mitai, Takachiho, Nishiusuki District, Miyazaki 882-1101
Map Code 30 741 534*10
*approx. 5min by car
Aratate Shrine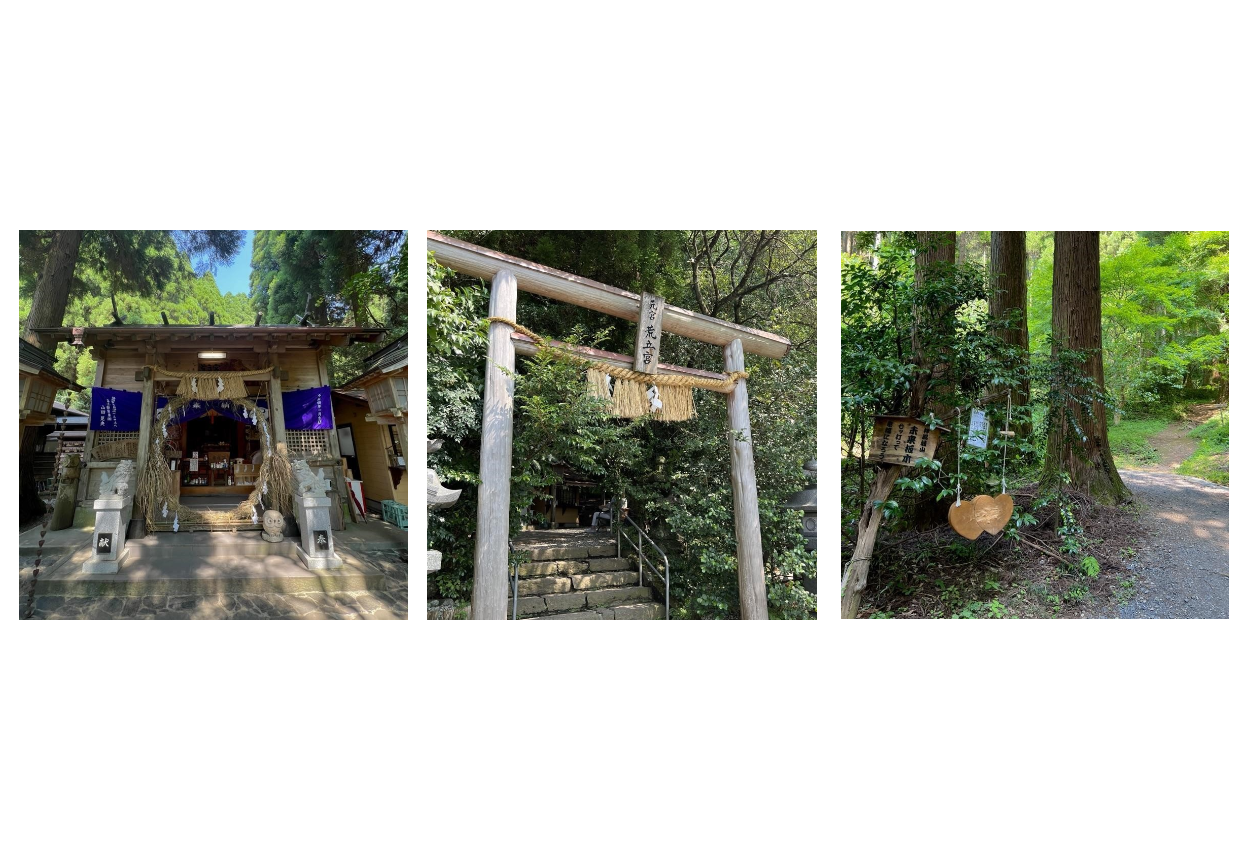 One of my favorite activities to do on trips in Japan is called Jinja Meguri. Written 神社巡りin Japanese, it translates to "shrine touring", or just leisurely walking around pretty shrines, enjoying the atmosphere, and photographing the beautiful architecture.

Aratate Shrine is dedicated to Sarutahikono-Mikoto and his wife Amenouzumeno-Mikoto, the gods of matrimony and granting wishes. If you wish to pray for guidance about your love life or ask the gods to grant a wish or two, then you should definitely stop by this shrine.

The trees of these grounds are known as sakagi. One of them, called Shichi-Fukutoku-Jyubangi, is said to grant seven wishes to those who hit the tree seven times. When you visit this shrine, you will see and hear people hitting the striking boards known as bangi. Grab a mallet, and start smacking away for good luck!

Aratate Shrine
667 Mitai, Takachiho, Nishiusuki District, Miyazaki 882-1101
Map Code 330 743 881*08

*approx. 5min by car
Amaterasu Railway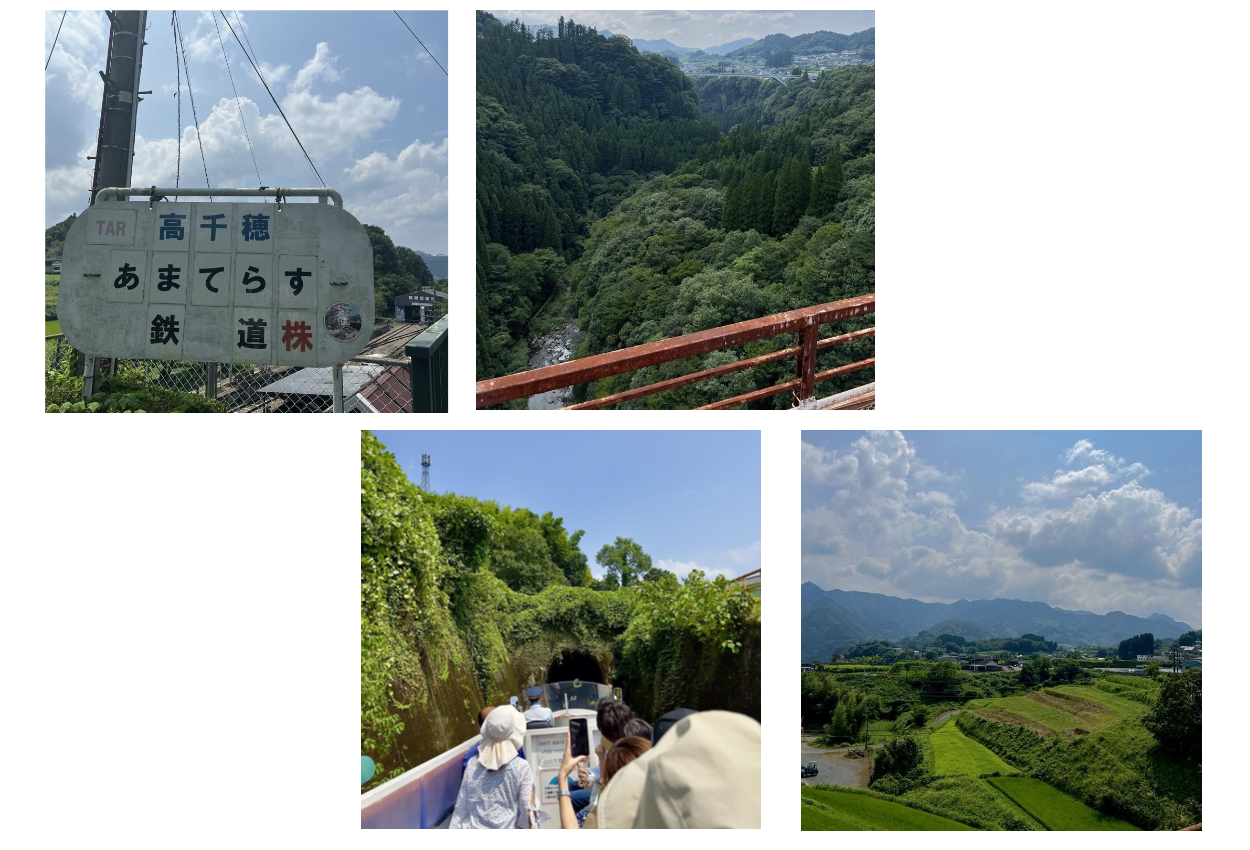 After visiting the shrine, I stopped by Amaterasu Railway for a quick, scenic tour of the area while the sun was still high in the sky. The train ride is only a 30-minute round trip, and it takes you to the highest point of the Takachiho railway bridge, which is 105 meters up in the air!

As I looked out into the valley, I marveled at the lush greenness of the summer scenery and enjoyed the cool breeze, which was very welcome in the heat. I found myself thinking about how great a small tour like this is; it's beautiful at any time of year and the air is always fresh with nature. Be sure to check the train schedule before you set off for the station, but try to fit it into your trip at least once.

Amaterasu Railway
1425-1 Mitai, Takachiho, Nishiusuki District, Miyazaki 882-1101
Map Code 330 772 303*03
*approx. 5min by car
Takachiho Gorge Boating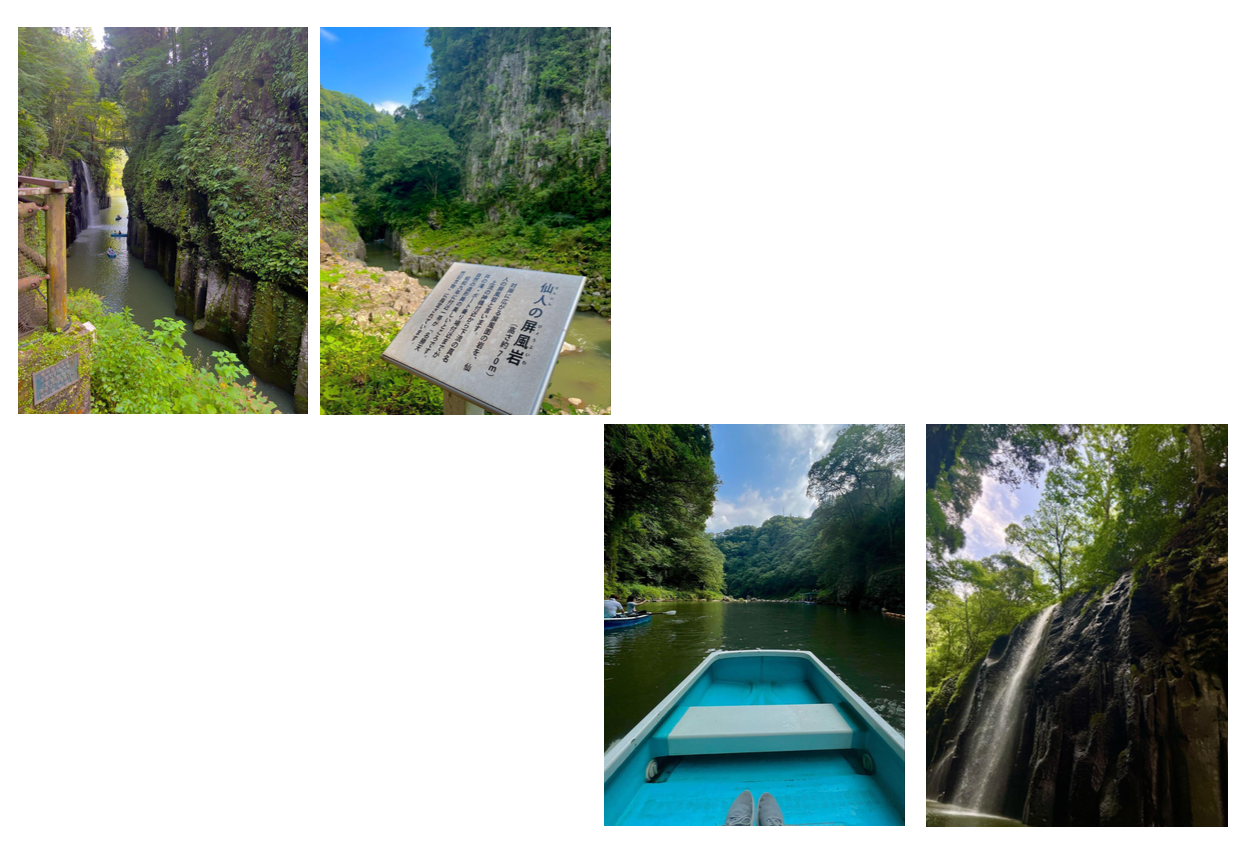 After a train ride around Takachiho, it was time to get up close and personal with the beautiful nature by heading over to the famous Takachiho Gorge. This site is definitely one of the main attractions of the region, and it's easy to see why. There are two primary ways to enjoy it and both can be done within the afternoon: rowing through the gorge, and walking down the long path.

On a busy long weekend, like when I visited, it may be difficult to find parking right next to where the boat rentals are. Fret not! It's a nice, leisurely 20-minute walk from Araragi Parking Lot to the boat rental area along the footpath. As you approach the area, you'll be able to look down into the gorge to see people of various levels of competency rowing around the water, and it just made me more excited.

The gorge was formed by flowing lava from Kumamoto's Mt. Aso thousands of years ago. The vertical cliffs stand over 80 meters tall and span a length of over seven kilometers from east to west. The Maino waterfall is ranked among the 100 most beautiful waterfalls in all of Japan.
Rowing through the gorge was a godsend on a blazing hot Miyazaki day. Mist from the waterfall cooled me off as I grabbed the oars and did my best to steer solo through the twisty turny gorge (I do recommend having a friend join to help navigate). Employees were kind enough to give me a good push until I got my bearings on the water, and from there it was smooth sailing (er, rowing?).

I would caution people who visit during the summer to stay nice and hydrated before and after going out on the water. Kyushu's summers are no joke, especially Miyazaki's. Sunscreen up, and grab a sports drink, like Aquarius or Pocari Sweat, to sip on after exerting yourself on the water and walking back along the path to the parking lot.

Takachiho Gorge Boat Rental Station
Mukoyama, Takachiho, Nishiusuki District, Miyazaki 882-1103
Map Code 330 711 671*52

Parking
Oshioi Parking Lot
1248-4 Oshikata, Takachiho, Nishiusuki District, Miyazaki 882-1102
Map Code 330 711 700*28

Araragi Parking Lot
1245 Oshikata, Takachiho, Nishiusuki District, Miyazaki 882-1102
Map Code 330 740 239*05

*approx. 5min by car
Takachiho Shrine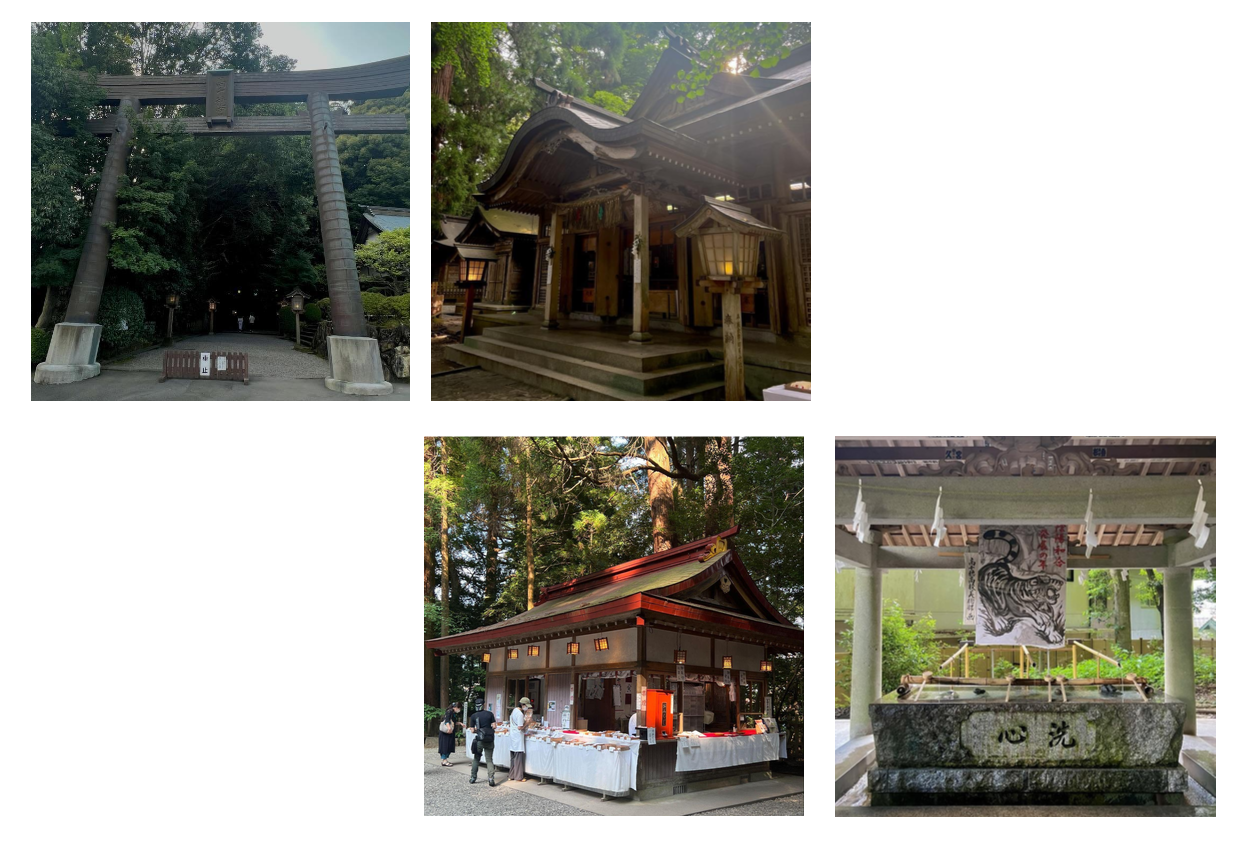 After recuperating from rowing, I continued on my "Jinja Meguri" tour with Takachiho Shrine. The shrine is surrounded by tall cedar trees, hidden from street view, but still easy to access by car or foot. Said to date back 1900 years, Takachiho Shrine honors the first three mythological generations of Japan's imperial line. I loved walking along the path, admiring the beautiful architecture, and bowing at priests as I made my way through the grounds.

Takachiho Shrine
1037 Mitai, Takachiho, Nishiusuki District, Miyazaki 882-1101
Map Code 330 741 345*43
*approx. 5min by car
Kushifuru Shrine
To end my first day, I made my way over to Kushifuru Shrine, just a couple minutes away from the Takachiho Shrine by car. This shrine is dedicated to the god, Ninigi no Mikoto, or Ninigi, the grandson of the sun god, Amaterasu Omikami. Ninigi is considered the mythical great-grandfather of the first emperor of Japan, and you can trace the mythological origins of Japan's imperial line back to this god.

I love the use of natural wood in the shrines of Takachiho, quite different from the international image of shrines always being lacquered with a brilliant vermillion. The smooth wood carvings are soothing to look at, created by artisans from hundreds of years ago, and it reminded me of how much dedication goes into building these sorts of shrines. If you are one for hiking, Kushifuru Shrine has many different nature trails that lead in all different directions to various spiritual spots.

Kushifuru Shrine
〒882-1101 Miyazaki, Nishiusuki District, Takachiho, 高千穂町Mitai, 713
Map Code 330 743 690*14
*approx. 5min by car
Guest House Sankaku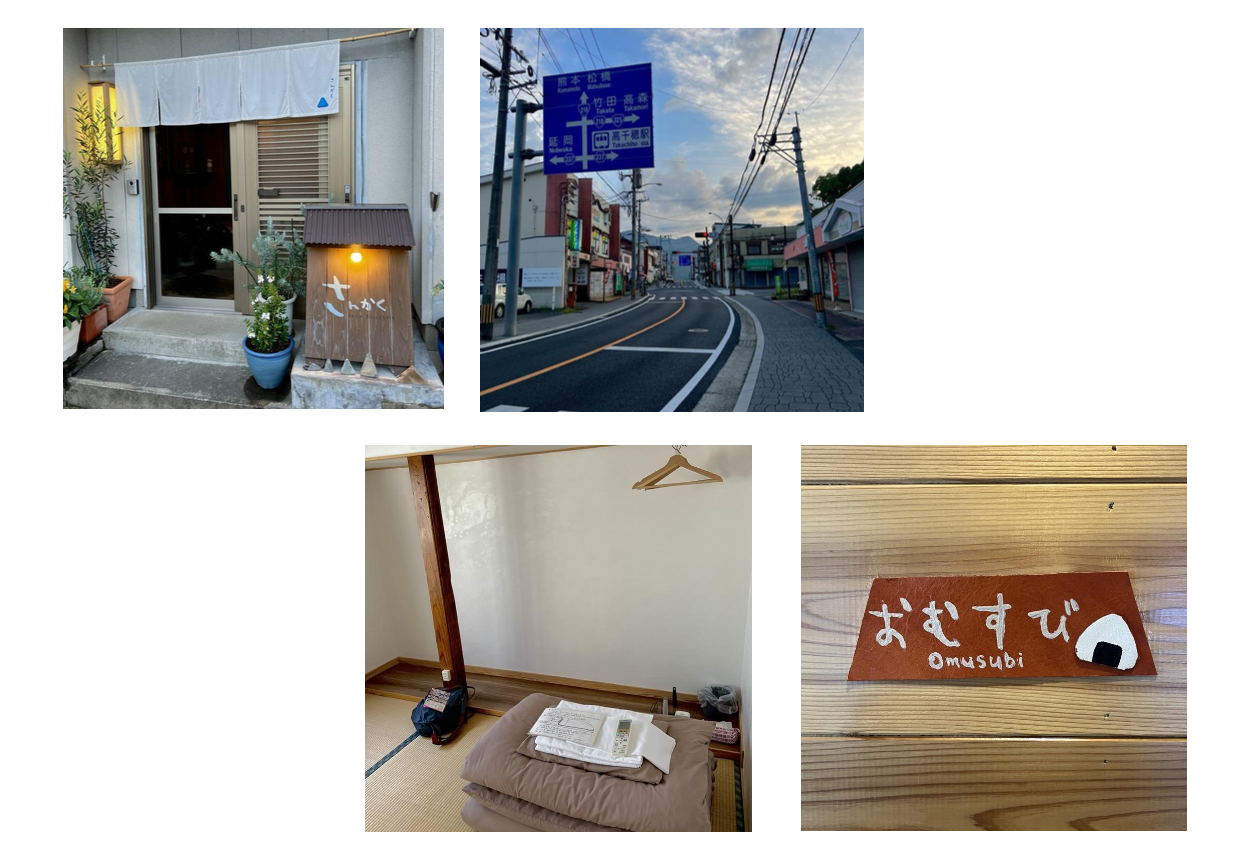 At the end of such a long, terrifically fun day, my body and brain felt like jelly and I was fully ready to crash. Enter Guest House Sankaku, my choice of lodgings for the night. It's a cozy sharehouse run by the lovely Asuka-san located in a very convenient part of town, just by the main train station. However, for car travelers like myself, there is also a parking spot in the back of the building, near a yummy bakery.

I opted to stay in the adorably named Omusubi Room, a single room with a comfy, traditional style Japanese futon. It's just what my back needed after a day of driving and hiking. My sweaty self was in desperate need of a shower, rest, and food, and Guest House Sankaku was happy to take care of the first two parts, while Asuka-san pulled out a map and detailed all the best places in Takachiho to get whatever my heart desired for dinner. Trust me when I say you will not go hungry in this town. I knew I had a big day waiting for me the following morning, so it was an early to bed early to rise kind of night, or 早寝早起き in Japanese.

Guest House Sankaku
10-2 Mitai, Takachiho, Nishiusuki District, Miyazaki 882-1101
Map Code 330 742 849*53
GOAL
Google Map may not be displayed properly if the maximum daily data usage is reached.
People who viewed this page also viewed these pages.