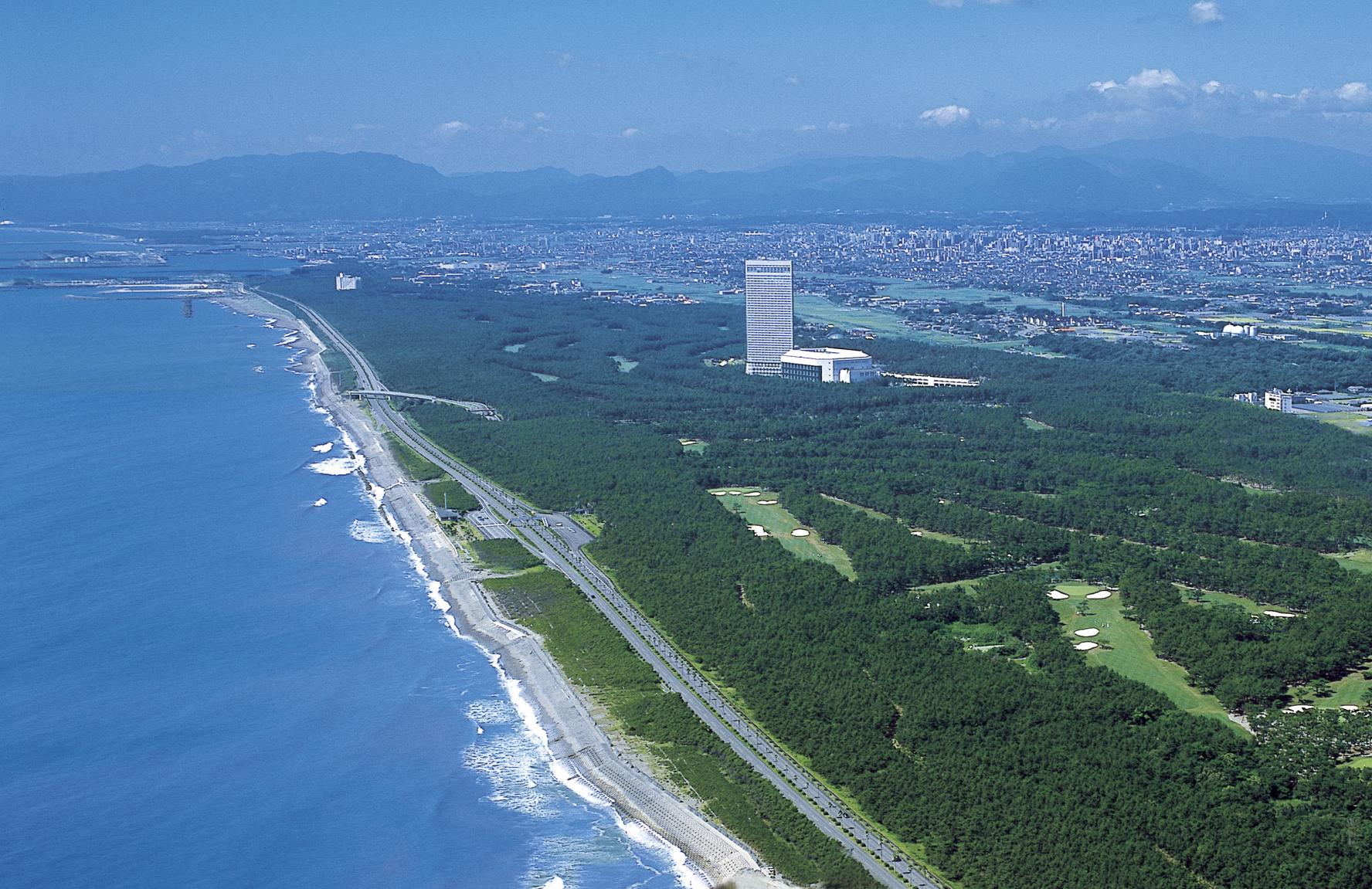 There are lots of fun spots at Seagaia.
We offer plenty of excitement of nature as we are surrounded by the vast black pine forest of 700 ha, stretching about 11 kilometers from north to south facing the Pacific Ocean.
Stay at a Resort
Sheraton Grande Ocean Resort
Every guest room features views of the Pacific Ocean
Located in the center of a large resort area, this 154-meter tall luxury hotel offers ocean views from every guest room. A total of 736 Western-style and Japanese-style rooms all offer panoramic views of the Pacific Ocean and prestigious golf courses. Come and enjoy the international restaurants, hot spring baths, and spas for a luxurious stay at this resort.
Column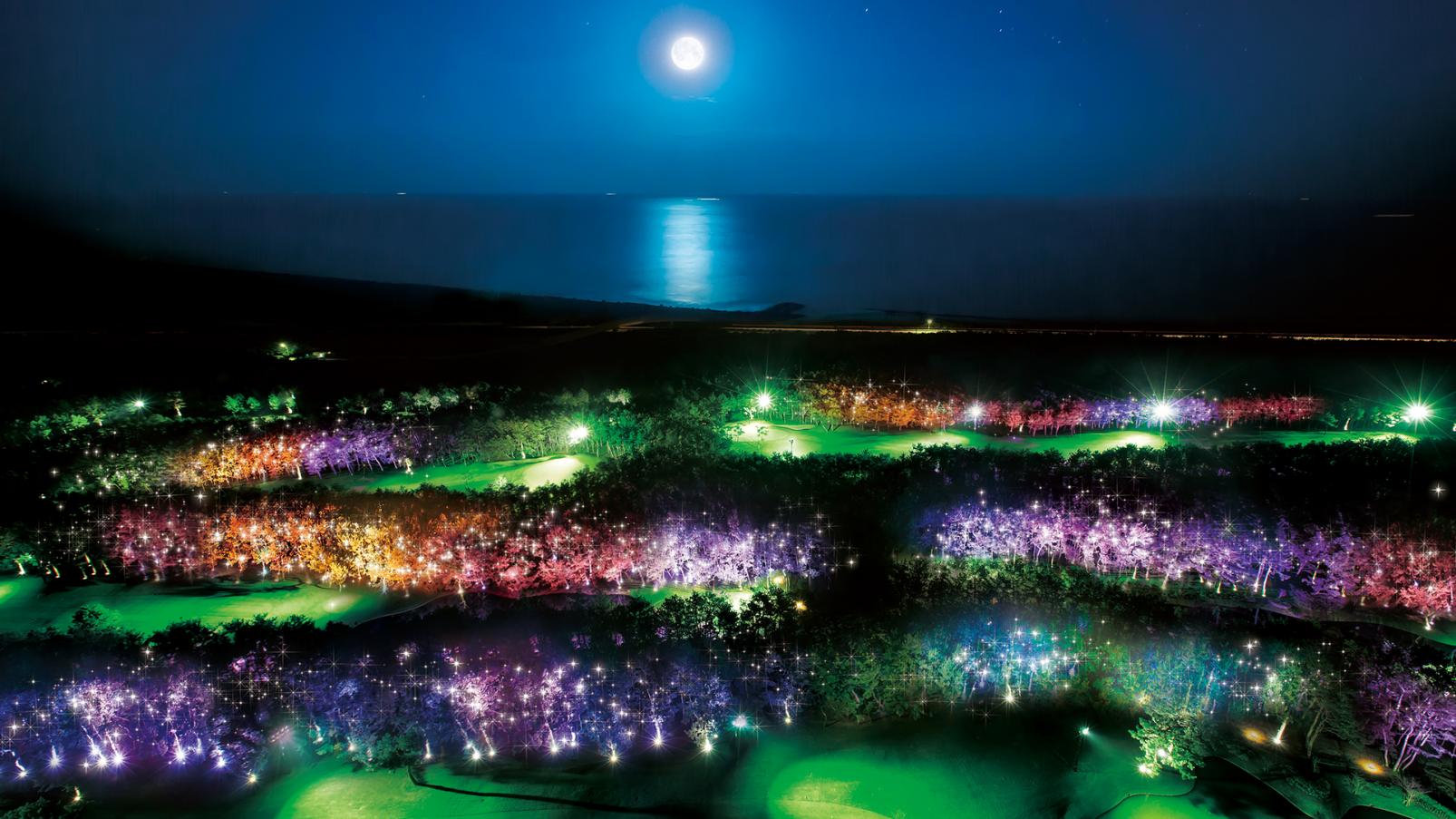 A shimmeringforest of lights
Only the hotel's guest rooms provide a full view of the illumination that spans the Tom Watson Golf Course.
Special spaces that enrich your stay
KAZE-MACHI TERRACE (Hotel Guest Only)
KAZE-MACHI TERRACE (Terrace to wait for a wind)" is a terrace exclusive to the hotel guests. Here you can plan your Miyazaki trip and also use it as a resting area.
You can order a fresh cup of coffee and sandwiches as you turn the pages of guidebooks offered in this terrace, or you can enjoy special Miyazaki Shochu (Japanese distilled spirit) as you reminisce about your trip. If you wish to share your memories of the trip with someone, we offer a letter room located in the back where you can write a letter to someone special to you.
*Terrace area is free of charge to the hotel guests. (Food and beverages are chargeable.)

-Cafe Area-
You can enjoy hand-drip coffee brewed with carefully selected coffee beans, sandwiches with your choice of ingredients, hotel-made soup, colorful sweets, danish, bagels, and homemade natural yeast bread.

-Letter Room-
Create a lasting memory by writing a letter to yourself in the future,your children in 10 years time or someone special to you.
THE LIVING GARDEN (Hotel Guest Only)
Waterside with a pleasant breeze.
A flickering flame that makes you lose sense of time.
The fragrance of the trees that calms you down.
Surrounded by such elements of nature, you can relax all day at the outdoor space "THE LIVING GARDEN."
Take a stroll in the morning and drink freshly brewed coffee in the sunlight filtering through the trees, enjoy drinking wine on the waterside sofa, or sit around the open fire and spend adult-only bar time.
Please find the place you like the most, and enjoy the resort in your own way.

-"Takibi Living Room"-
At the "Takibi Living Room", gather around a flickering wood fire, relaxing with a book in the daytime or spending a luxurious evening gazing up at the stars. Includes complimentary services such as hot coffee and toasted marshmallows.
All kinds of activities!
Rent bicycles to ride through the pines to visit mythological power spots.
Nordic walking through beautiful pine groves.
Phoenix Country Club
This exciting course is surrounded by a peaceful Japanese Black Pine forest.
One of the top 100 courses in world, one of the top 3 courses in Japan, and the site of the Dunlop Phoenix Tournament since 1974, the Phoenix Country Club is located within the Phoenix Seagaia Resort, on the Hitotsuba Pacific Coast. Lined by pine groves and lusciously designed, the beauty of this course is matched only by its excitement. Challenge yourself on this engaging, fascinating course.
The Garden Shuttle Bus to the Club House is free of charge and takes only 5 minutes from the Sheraton Grande Ocean Resort.
Tom Watson Golf Course
This course is accessible for beginners while offering strategic challenges.
Adjacent to Phoenix Country Club, Tom Watson Golf Course is an 18-hole, self-play (not accompanied by caddie) course designed by legendary PGA star Tom Watson. The course takes advantage of the natural landscape and is surrounded by a historic black pine forest.
Column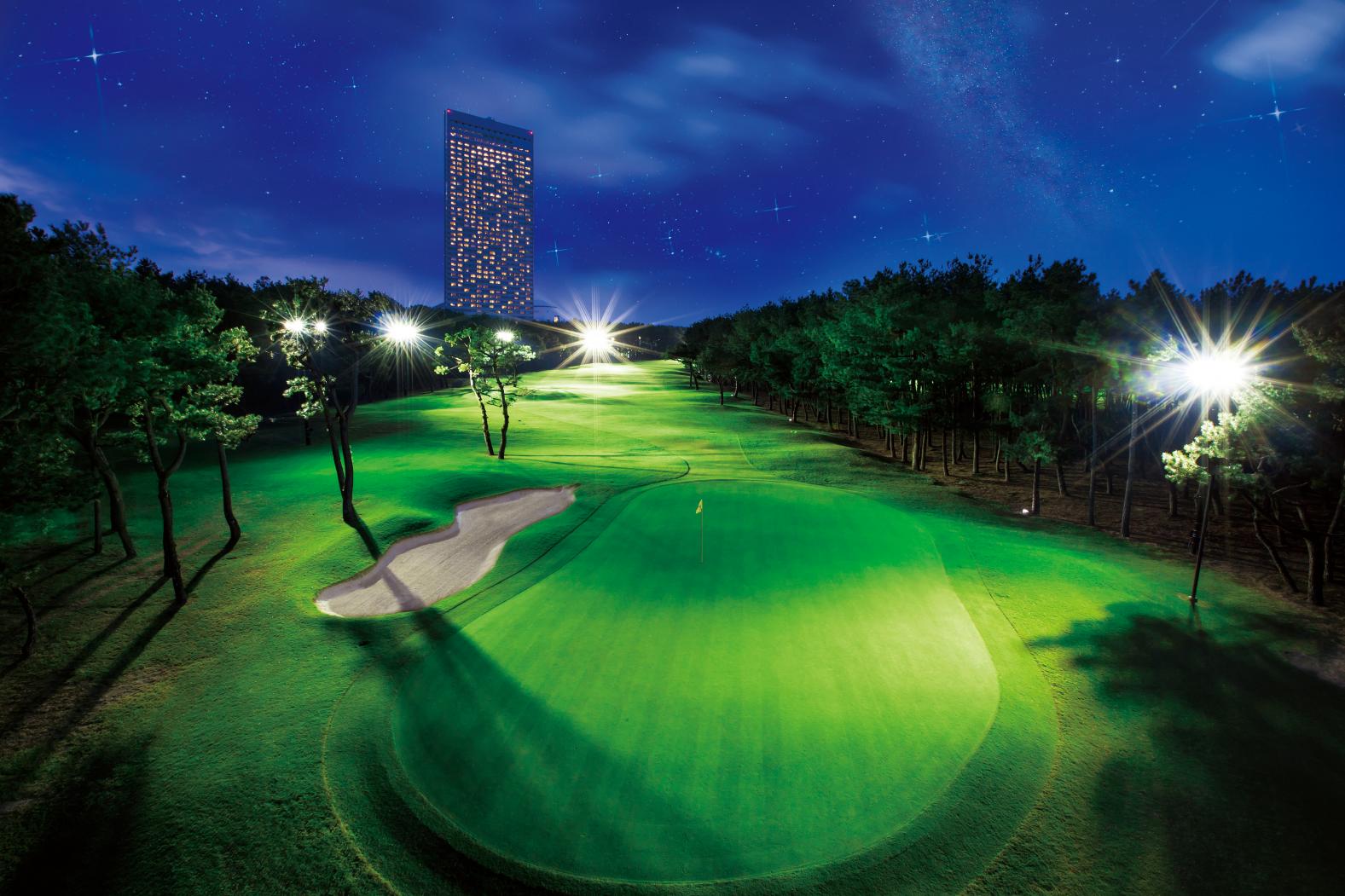 Golf Night Game"Starry Night Golf"
Tom Watson Golf Course is also open at night, so you can play golf in a cool air without worrying about getting sunburn.
Treat yourself to a true resort experience.
Hot Spring "SHOSENKYU"
Traditional heart-warming hot spring.
Adjacent to the hotel, a hot spring called "SHOSENKYU (Pine Spring Palace)"awaits you in the black pine forest. This is a natural forming chloride strong saline spring that wells up from the 10 million-year-old strata which lays 1000 meters beneath the earth.
This hot spring contains fossil components from the ancient sea which has benefits in many ways: soothing your fatigue, alleviating sensitivity to cold temperatures, relieving joint pain, and making the skin beautiful by improving your metabolism.
Banyan Tree Spa
A place to feel the real luxury.
Enhance your spa experience by taking in the panoramic view of the Pacific Ocean whilst being pampered. Enjoy the power of hand massage that invigorates you.
Please experience our spa that can vitalize both body and mind in the Banyan Tree Spa on the 39th floor.
Restaurants & Bars Enjoy all of Miyazaki's "Treasure Chest of Foods"
Garden Buffet "PINE TERRACE"
Miyazaki Terroir theme offering the many fabulous flavors of Miyazaki.
"The all-new Pine Terrace's Miyazaki Terroir theme highlights the wonderful taste of Miyazaki-grown food. This buffet-style restaurant features local cuisine crafted from traditional Miyazaki fruits and vegetables, award-winning Miyazaki beef, rich seafood nurtured in the Kuroshio Current off Miyazaki's scenic coast, and other mouth-watering treats from Miyazaki's treasure trove of tastes in world-class dishes that bring out the absolute best in each delicious ingredient.
A relaxing resort evening with drinks
Tourist Spots near Seagaia