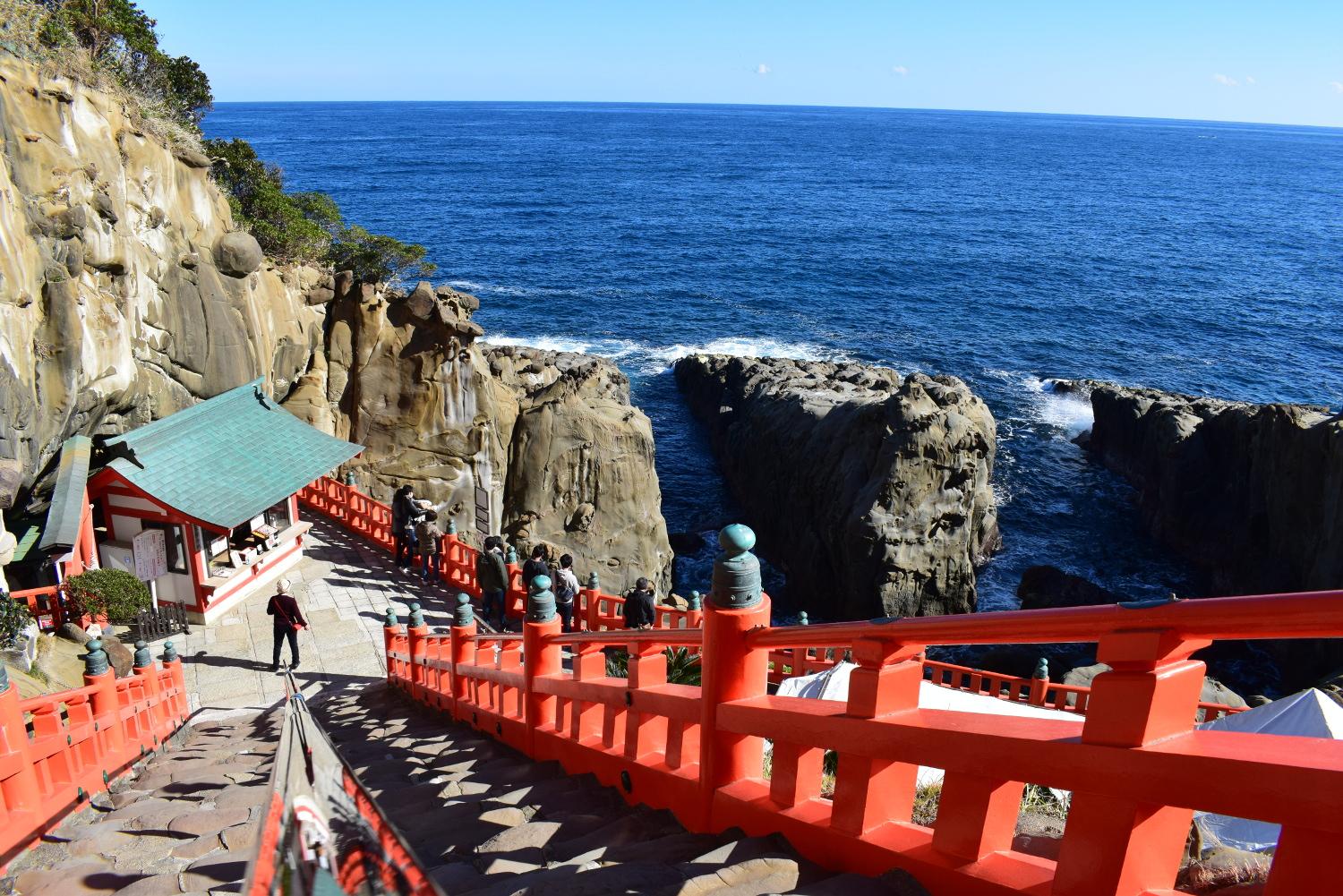 Let's experience Japanese culture! Udo Shrine and Obi Castle Town
The shrine beside the sea – Udo Shrine
Walk through the giant red torii gate, keeping the endless ocean on your right and lush green mountain on your left. Beyond that, you will find a large open cave in which the main building of the shrine is tucked away. It is unusual in Japan to find a shrine that is built on the edge of the ocean as Udo Shrine is. Even in summer, the main shrine stays cool and a sacred breeze blows. In Japanese mythology, this where the goddess Toyotama-hime gave birth to the child she had with Yamasachihiko, so many people come to this shrine to pray for a healthy childbirth, child rearing or marriage. It is a place that Miyazaki people are very familiar with, and many people visit just to enjoy the superb view.
'Ochichi-iwa' and 'Un-dama'
Inside the cave, you can walk all the way around the shrine. If you look towards the jagged rock wall as you walk, you will eventually come across the 'Ochichi-iwa'. This is said to be where Toyotama-hime stuck both of her breasts onto the rock for her child. Her child, Ukonagisatake-ugayafukiaezu-no-mikoto, who is enshrined in Udo shrine, was raised on 'Ochichi-ame' which was made from the water that trickles down from this rock.
After exiting the cave, if you look down you will see 'Kame-ishi' which is a rock that has been formed by the waves. Here you will find a popular kind of fortune-telling which involves throwing small clay balls called 'Un-dama'. Men throw with their left hand while women throw with their right. It is said that if you make a wish as you throw the ball and it lands inside the circle on top of 'Kame-ishi', your wish will be granted.
The old town atmosphere is charming! Obi Castle Town
20 minutes' drive from Udo Shrine is Obi Castle Town. The feudal clan who ruled Obi for 280 years from 1588, the Itou Clan, built many charming stone walls and walls painted with plaster. Many travelers come here to experience traditional Japan.
Taihei Odori is also famous in this area. It is a folk dance that started in the Edo period. The dancers overflow with refined beauty and strength as they move to the slow rhythm. You can see this performance every fall at the Obi Castle Town festival.
Walking around and trying all the different foods in Obi is fun!
There are so many delicious foods in Obi. We recommend buying an Ayumichan Map which comes with tickets that you can exchange for food and other goods. There are over 30 local stores shown on the map, so even just walking around to all the different stores with the map in hand is fun. If you're lucky, you might even get the chance to talk with one of the store owners. Of course you will be able to find local foods such as Obi-ten (seasoned and fried fish cake) and Atsuyaki-tamago (Japanese rolled omelette), but you can also find many other great Obi goods such as chopsticks or other small items. Renting a kimono is also popular. We hope you will enjoy getting to know a lot about Japanese culture!
Udo Shrine

Address
Nichinan-shi, ooazamiyaura 3232
Map code
274 536 548*40
Access
Car:60 minutes' drive from Miyazaki City
Train・Bus:30 minutes' by bus from Aburatsu station

View more

Obi Castle Town

Address
Nichinan-shi, obi 4-chome, 2-20
Map code
274 432 767*81
Access
Car:60 minutes' drive from Miyazaki City
Train:15 minutes'walk from Obi station

View more