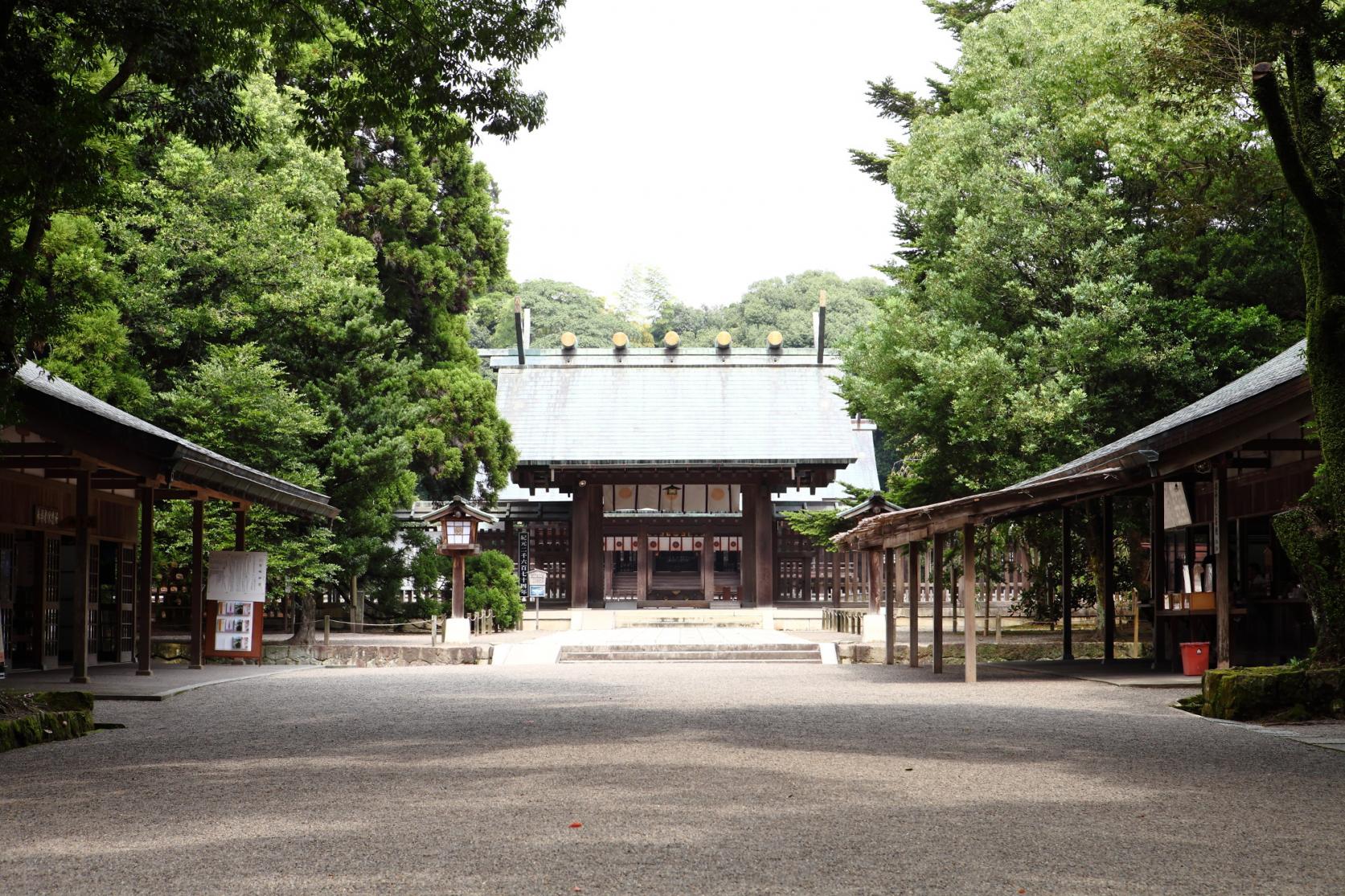 Miyazaki Jingu Shrine – Feels like you're in a forest! Even just walking around will make you feel good.
A place of healing surrounded by trees
A gentle breeze blows by, the sound of birds chirping merrily, the smell of trees… as you step onto the grounds of Miyazaki Jingu Shrine, it feels as if you have stepped into a forest. If you continue walking straight and pass through the torii gate, the main building of the shrine will appear. Miyazaki Jingu Shrine is located approximately 10 minutes-drive north from Miyazaki station. It is also easily accessible by bus and train. It is a fun area to walk around – there is an art gallery and a museum nearby. Although the Shrine itself is a place of historic significance, not only will you find people who have come to visit the Shrine, but also couples sitting and chatting and people out for a walk. There is an open space and a pond, and for Miyazaki people it is a place that they can go to relax.
Who is Emperor Jimmu?
Enshrined within Miyazaki Jingu Shrine is Emperor Jimmu who is said to be the first emperor of Japan. The story goes that Emperor Jimmu was born in the area which is now known as Miyazaki Prefecture. When he was 45 years old, in order to rule the whole country peacefully, he headed north and founded the nation of Japan in what is now known as Nara Prefecture. The sun goddess Amaterasu is said to be the ancestor of Emperor Jimmu. As the goddess of the sun and farming, Amaterasu is very well-known. There are many stories written in the Nihon Shoki and Kojiki which are two historic texts with collections of Japanese mythology.
The annual Jimmu-sama festival
Miyazaki people always look forward to the Jimmu-sama festival which is held every year in fall. It is an annual festival which has been celebrated for more than 140 years. The festival used to be known by a different name, but over time it naturally became known as the Jimmu-sama festival. 'Sama' is an honorific title used for people, so the festival name refers to Emperor Jimmu. The festival takes place over two days and celebrates the abundant harvest and the great achievements of Emperor Jimmu. The main event is a parade that depicts Emperor Jimmu moving the capital east. There is also mikoshi which is a portable shrine, taiko drum performances, and famous dances from around the prefecture. It is always a very lively and fun festival.
Three highlights of Miyazaki Jingu Shrine
Because of its association with Emperor Jimmu moving the capital to the east, Miyazaki Jingu Shrine is a popular place to pray for victory or success in passing an examination. Emperor Jimmu's parents are also enshrined in Miyazaki Jingu Shrine, which makes it a popular place to pray for the well-being of one's family or a healthy pregnancy and children. Built in 1907 on the spacious grounds, the main building of the Shrine is also an impressive structure that is worthwhile seeing.
On the western side of Miyazaki Jingu Shrine is the Gokoku Shrine in which the spirits of those who died for Japan are enshrined. It is a place of comfortable quietness, surrounded by trees.
Follow the red torii gates and you will find Goshoinari Shrine. This shrine is said to hold the guardian of agriculture, industry, food and business, so many people come here to pray for prosperity in business. In May, you can enjoy beautiful wisteria flowers here.
Even just walking around Miyazaki Jingu Shrine will make you feel good. Please check it out sometime!
<Miyazaki Jingu Shrine>
Address
〒880-0053 Miyazaki-ken, Miyazaki-shi, Jingu 2-chome 4-1
Map code
66381153*23
Access
Train:10 minutes walk from JR Miyazaki Jingu Station
Car:30 minutes drive from Miyazaki Airport, 10 minutes drive from JR Miyazaki Station
Bus:5 minutes walk from Miyazaki Jingu Bus Stop (Miyazaki Koutsu bus company)