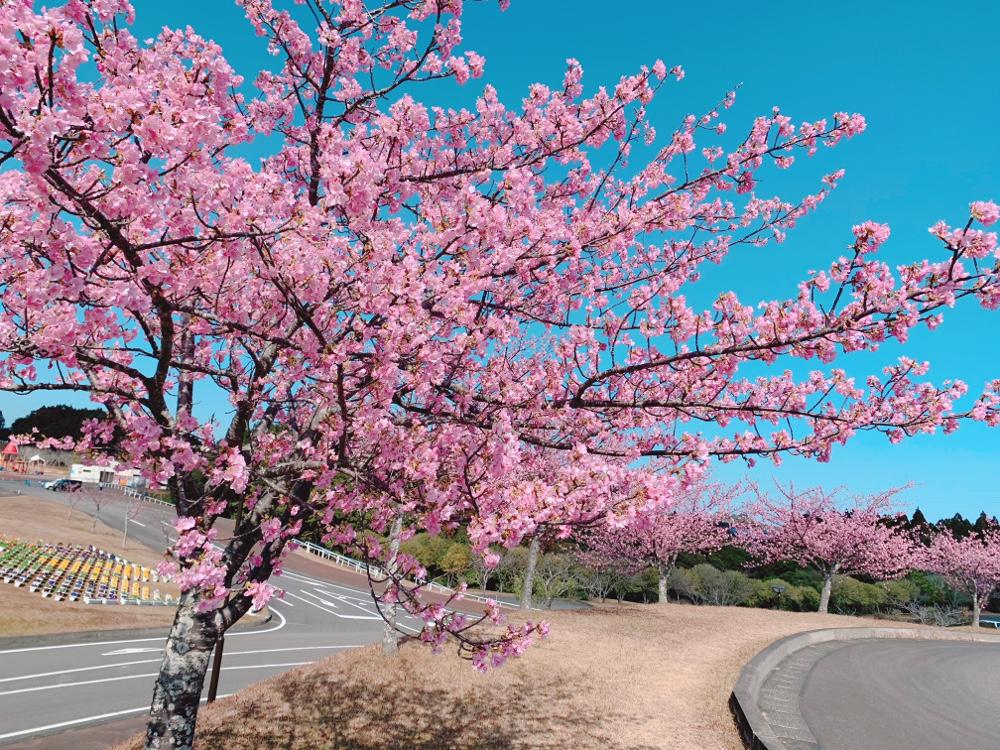 Enjoying the seasons – the flowers of Miyazaki special edition
Is Miyazaki the city of flowers?
Miyazaki Airport has been affectionately known as Miyazaki Bougainvillea Airport since 2014. As this name would suggest, for a long time Miyazaki has been a place where you can enjoy flowers. Even now, you can see different flowers in every season. Let us introduce you to some of the charms of Miyazaki's flowers.
Spring flowers
The cherry blossom (sakura in Japanese) is the first flower that comes to mind when we think about spring in Japan. There are many great spots to see sakura in Miyazaki Prefecture. Every year, Oyodogawa Shiminryokuchi Sakuratsutsumi and Tenjinyama Park are alive with visitors who come to see the beautiful flowers. At Florante Miyazaki, this is also a good season to see tulips, buttercups and roses. Surrounded by the softly colored flowers and the warmth of spring, you are sure to experience feelings of delight.
Summer flowers
The hot Miyazaki summers are a particularly unforgiving season for flowers. But one flower that doesn't give in to the heat is the hibiscus. You can see hibiscus flowers everywhere in Miyazaki, however, at Florante Miyazaki you can see many of them in one place. Summer is also the best season to see impatiens which originate from tropical Africa. Striking colors such as red, pink, orange, and white are the most popular. Also, you can see sunflowers at the Saito Burial Mounds in Saito City. It is a stunning sight to see with approximately 1 million sunflowers in bloom.
Fall flowers
In the harvest season, flowers are aromatic and deeply colored. In this season you can see flowers such as sage, cosmos, and celosia. Just looking at these warmly colored flowers will bring you a sense of calm. At Florante Miyazaki, the lawns change from summer grass to winter grass. The lawn area is carefully maintained with the goal of keeping it 'soft enough that a baby could walk on it with bare feet'. The new winter grass is said to be especially soft. Come and take it easy on the lawn.
Winter flowers
Miyazaki's winters are warmer than most of the other prefectures in Japan. However, in the high elevation mountain region, there is snow and a ski resort, so there is a big difference between regions. In winter, pansy, Christmas rose, and sweet alyssum are in bloom. Watching these plants bravely flower while the cold winter winds blow warms our hearts.
Florante Miyazaki is fun even when it rains!
When it rains, the flowers are happy. But for travellers it can be difficult to decide where to go on a rainy day. Florante Miyazaki is the perfect destination for those days! After passing through the entrance, a giant glass atrium garden will appear before you. If you go up to the second floor, you will get a bird's eye view of the lawn and garden. You could sit chatting on the benches, enjoy the garden in the rain, or just take it easy.
<Florante Miyazaki>
| | |
| --- | --- |
| Address | Miyazaki-shi, yamasaki-cho, hamayama 414-16 |
| Map code | 66 446 095*41 |
| Access | 15 minute drive from JR Miyazaki Station |
Other spots
Oyodogawa Shiminryokuchi Sakuratsutsumi

| | |
| --- | --- |
| Address | Miyazaki-shi, tsurushima 1 |
| Map code | 66 259 627*46 |
| Access | 10 minute drive from JR Miyazaki Station |

View more

Tenjinyama Park

| | |
| --- | --- |
| Address | Miyazaki-shi, ootsubohigashi 1-14 |
| Map code | 66 229 855*21 |
| Access | 10 minute drive from JR Miyazaki Station |

View more

Saitobaru Burial Mounds

| | |
| --- | --- |
| Address | Saito-shi, miyake 4941-1 Saitobaru Guidance Center Konohanakan |
| Map code | 219 091 623*78 |
| Access | Turn left at the intersection of National Route 219 and Mifune-dori. It is approximately 2km from this intersection. |

View more