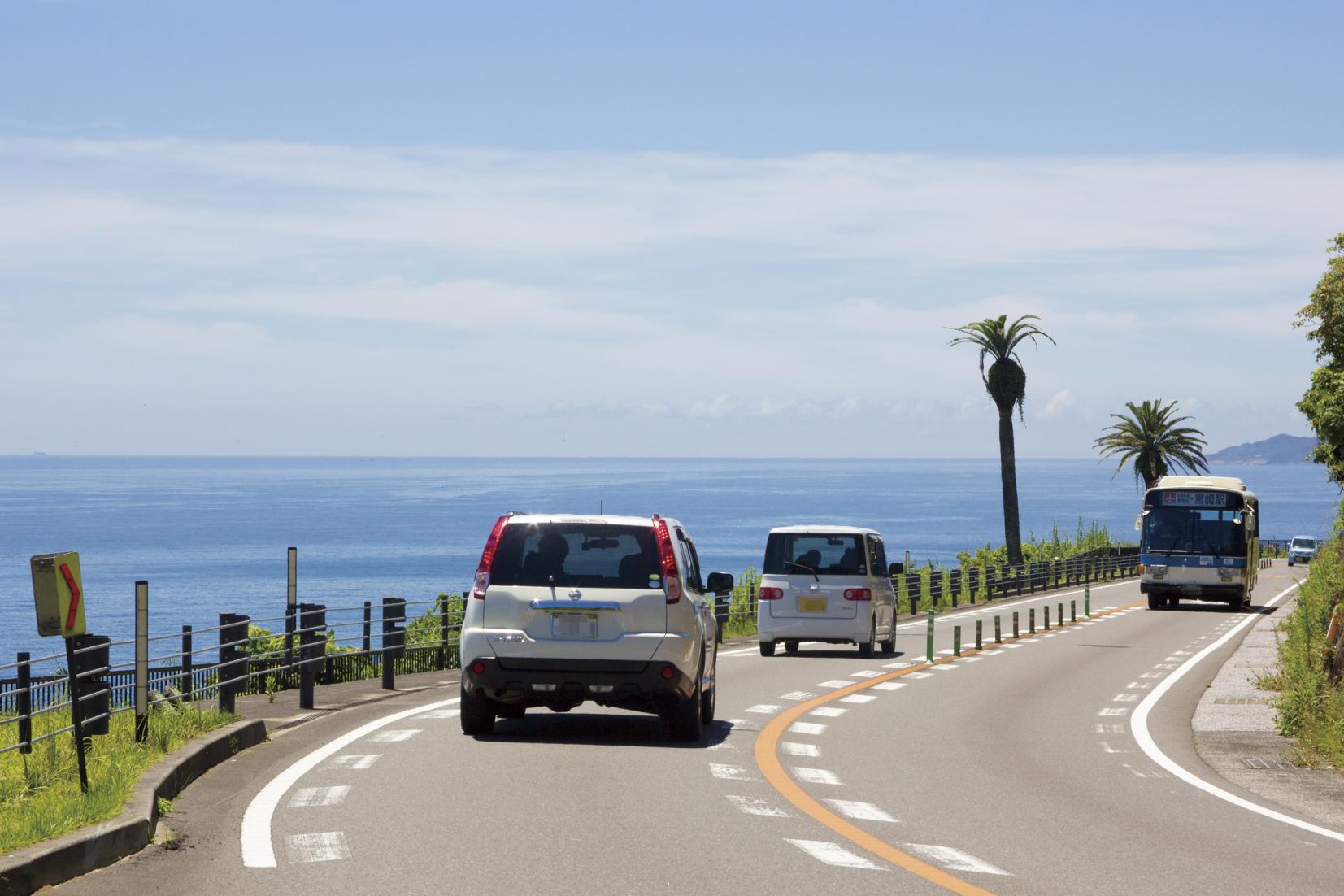 Summer is for Aoshima! Making the most of the ocean and cuisine with a one day trip
It's all about the ocean! The 'Devil's Washboard' is a must see.
Aoshima is a small island with a circumference of just 1.5km, located in the south-eastern part of Miyazaki City. The island is joined by land to the Aoshima coast line which is a popular because of its scenic views and food.

When you first arrive, you will be greeted by the endless sky and the sparkling ocean. The waves are gentle, weaving through the rocks before breaking onto the shore. These rock formations are also an attraction of Aoshima. They are called the 'Devil's Washboard' as they resemble washboards that were used in Japan a long time ago. Hard sandstone and soft mudstone form layers like a mille-feuille pastry, then over time, the soft mudstone breaks away, leaving this unique rock formation. You can walk on the rocks, so don't hesitate to get up close and enjoy it!
Is the mystical Aoshima Shrine a power spot that leads to love?
Standing right in the center of Aoshima Island is Aoshima Shrine. Surrounded by approximately 5,000 fountain palms and many other tropical and subtropical plants, the shrine definitely has a mystic vibe. In Japanese mythology, this is the place where Yamasachihiko and the goddess Toyotama-hime met, which is why many visitors come to Aoshima Shrine to pray for romance or luck in love. There are many different and unique ways to make a wish here. Depending on your wish, you might like to try tying a koyori onto a tree. Koyori are long thin coloured strips of Japanese paper rolled into string. Or, you could try throwing an earthenware plate while making your wish. The shrine is also popular because there are a large variety of fortune slips called omikuji and many people feel reinvigorated just by visiting here.
Aoshima Beach Park
After doing some research on Aoshima, you will definitely want to visit Aoshima Beach Park. At this park on the coastline of Aoshima, you can experience what daily life is like living by the ocean. In front of the beachside cafes and food vendors in repurposed shipping containers, there are spacious wood decks and benches to laze on. Listen to the sound of the waves as you grab lunch with your friends or family, or even while flying solo. Wi-fi is also available so you can get some work done if you want. Miyazaki people and travellers alike, everyone loves the wide open spaces of Aoshima Beach Park.
Enjoy your visit in many different ways! Souvenirs, food and so much more!
In the Aoshima area, there are many facilities and things to do that are within walking distance. For people who are interested in flowers and plants, you might like to check out the Miyakoh Botanic Garden Aoshima. You can see bougainvilleas, hibiscus, and many other colourful tropical plants here. Or, if you want to buy souvenirs, we recommend stopping by Aoshimaya. Here you will find a large selection of shochu, Miyazaki Beef, Miyazaki Mango, and many other souvenirs made from the local goods of Miyazaki. Also in the Aoshima area, lots of new stores have recently opened, including cafes, bakeries, and shops selling various knick-knacks. We recommend trying the new local speciality, garlic shrimp. But don't just take our word for it, take a walk around and find your own favorite store.
Aoshima
Address
Miyazaki-ken, Miyazaki-shi, Aoshima 2-chome
Map Code
843 192 132*20
Access
Train:10 minutes' walk from Aoshima station
Bus:7 minutes' walk from Aoshima bus stop on the Aoshima route
Car :25 minutes' drive from Miyazaki station